Because we needed to drop off our Kirby vacuum cleaner (yes, we brought it with us when we sold the house) at a
repair
shop
in
Jacksonville
,
FL
, we decided to go to a
beach
for a couple of hours. Spending time on the beach is always fun for the three of us. Of course, the challenge is finding beaches on the east coast that are
dog-friendly.
We were happy to learn that dogs are permitted on Atlantic Beach, but not Neptune Beach (just south of Atlantic Beach). We drove around looking for a place to park on the street, but ended up in a parking lot ($3/hour). We walked a few blocks to reach Atlantic Beach.
It was a beautiful day, although there were strong rip tides (hence the
red
flag
) due to
Hurricane
Florence
(that was hitting NC/SC). Still, there were people
swimming
in the ocean and lots of surf
fishermen
(check out the tattoo on this guy!)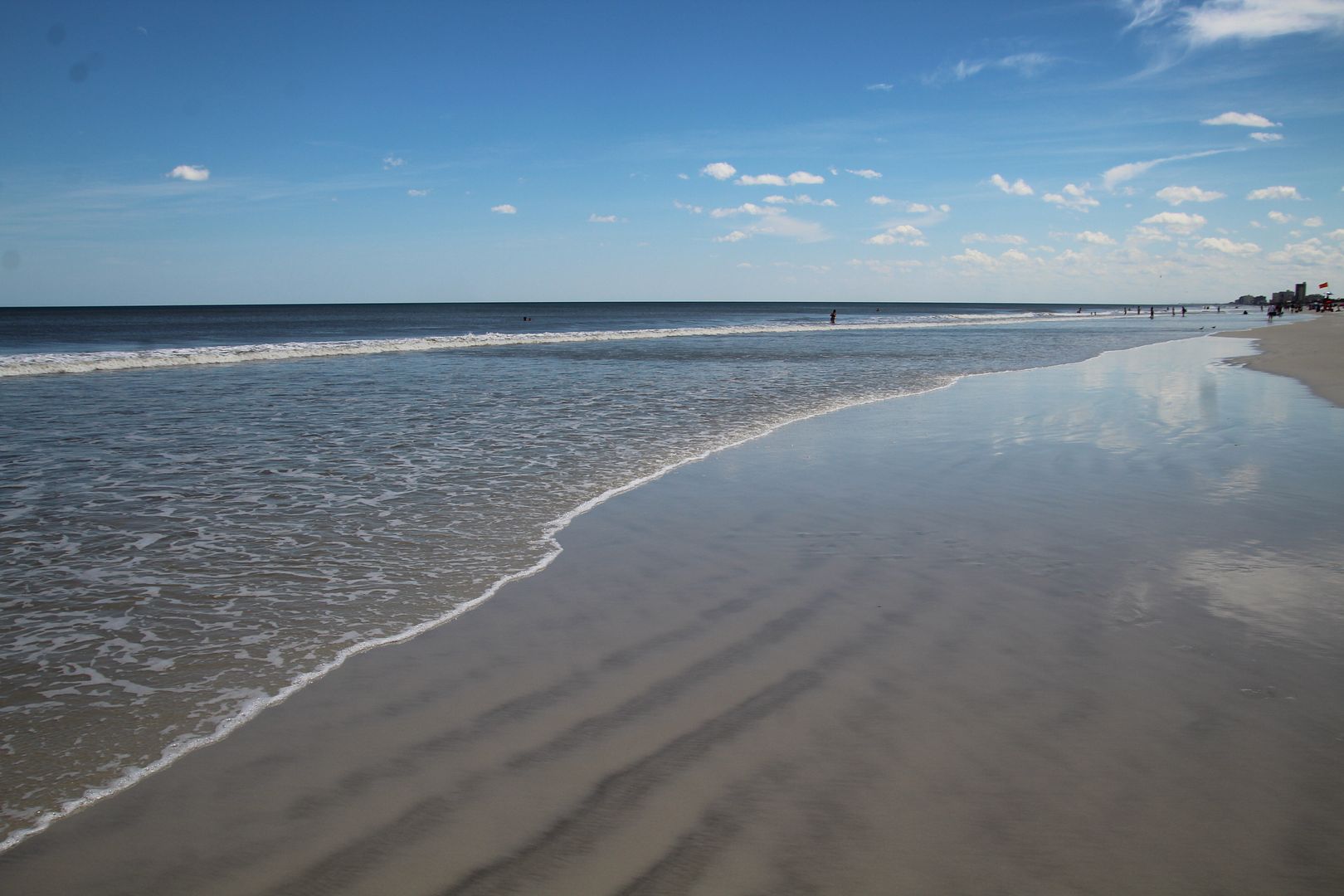 We walked for several miles on the beach (one of our favorite things to do), and then made the hour-long drive back to St. Marys, GA, where we are staying.
The following week, we went to Amelia Island (about 30 miles from St. Marys). All of the beaches on the island, except for the Amelia Island State Recreation Area, allow leashed dogs. It is part of the Sea Islands chain of barrier islands with beautiful sandy beaches. This time we brought our gear so we could hang out on the beach for a few hours. We found a free parking place on the street and it was just a short walk to the beach.
Our Sadie even got to play some frisbee. Good catch!
It was a bright, sunny afternoon. We went on a walk, took Sadie swimming, had a picnic lunch, and generally enjoyed the sights and sounds of the beach.
There were a couple of helicopters that flew over and an ultra light buzzing around. A couple surf fishing near us caught whiting fish, one after the other (and sometimes two at time!) They had a family of 7 so needed a lot of the small fish to make a good meal. Apparently schools of larger fish were pushing them close to the shore.
When John and I went for a swim (which we do not do that often anymore), a large wave crashed over us and caused John to lose his glasses. We tried to find them, but no luck. Rats! Oh well, I think it was time for John to have an eye exam anyway. We last purchased glasses in Los Algodones, Mexico, when we were in Yuma, AZ. (You can find great prices for high quality glasses in the border town.)
Shortly thereafter, we packed up and headed home. Despite the glasses incident, it was a lovely and relaxing day.