Rating: 4.0 on a scale of 5
Location
: Our decision to stay at this campground was based on our need to leave Delaware Seashore State Park (no availability) and our desire to stay in the area to have our rear slide motor replace. We asked our repair technician for the names of campgrounds near him, and he suggested this one or Delaware Beaches Jellystone Park Camp-Resort (
www.delawarejellystone.com
). We opted for G&R Campground for several reasons: we do not need all of the amenities at Jellystone; the price was better; and it was the closest to the RV repair business.
Lot size: We had a back-in site (#70) and parked our car in #72. There are fire rings and picnic tables at each site. There were woods behind us (which Sadie loved!) We had plenty of room for the tow dolly as well.
Most of the sites are shaded and some are seasonal.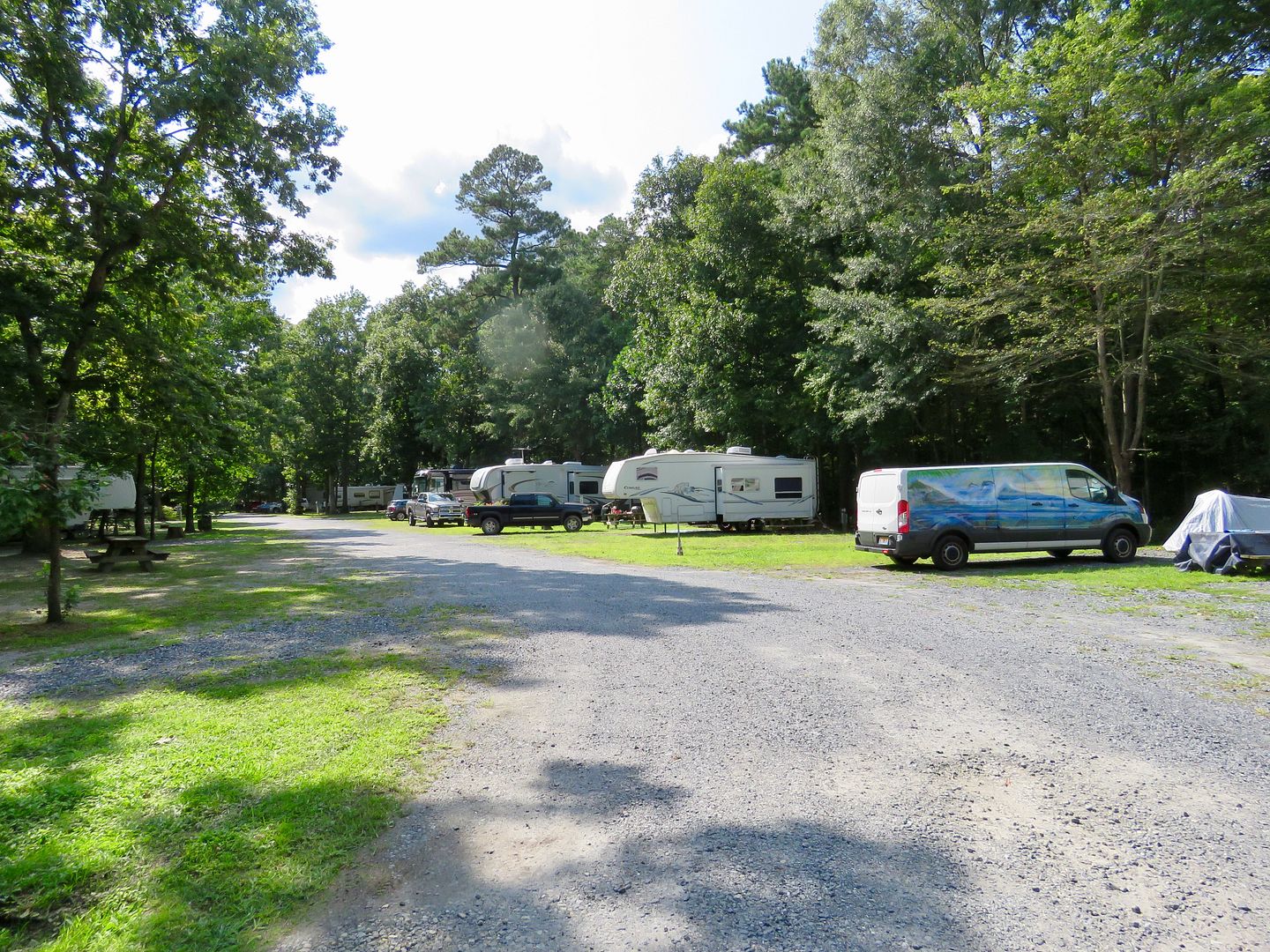 There is also a large field at the front of the campground (near the pool) that is used for rallies and/or large groups.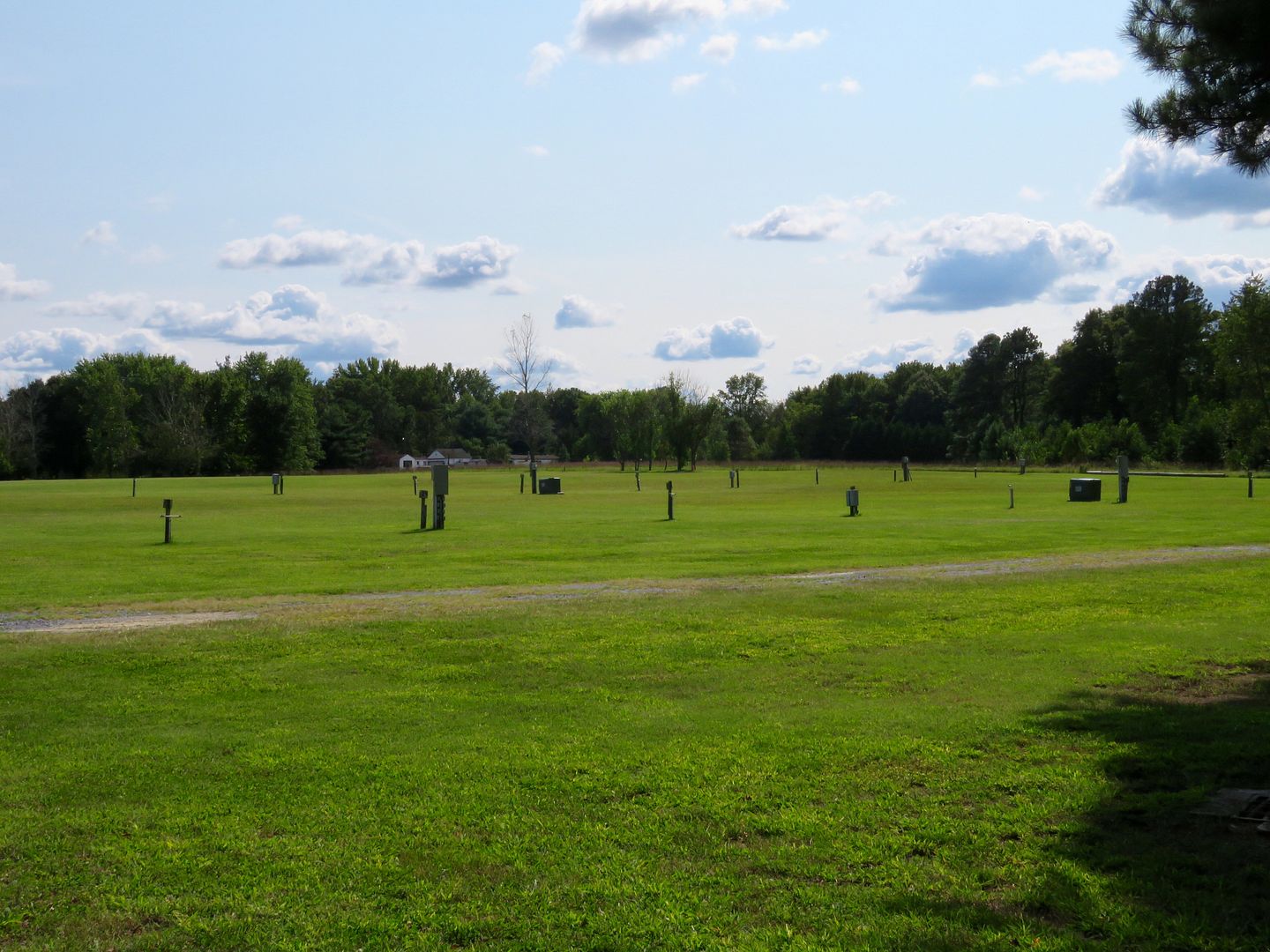 Cabins are available for rent. Also shown is one of the bathroom buildings.
Below is a map of campground.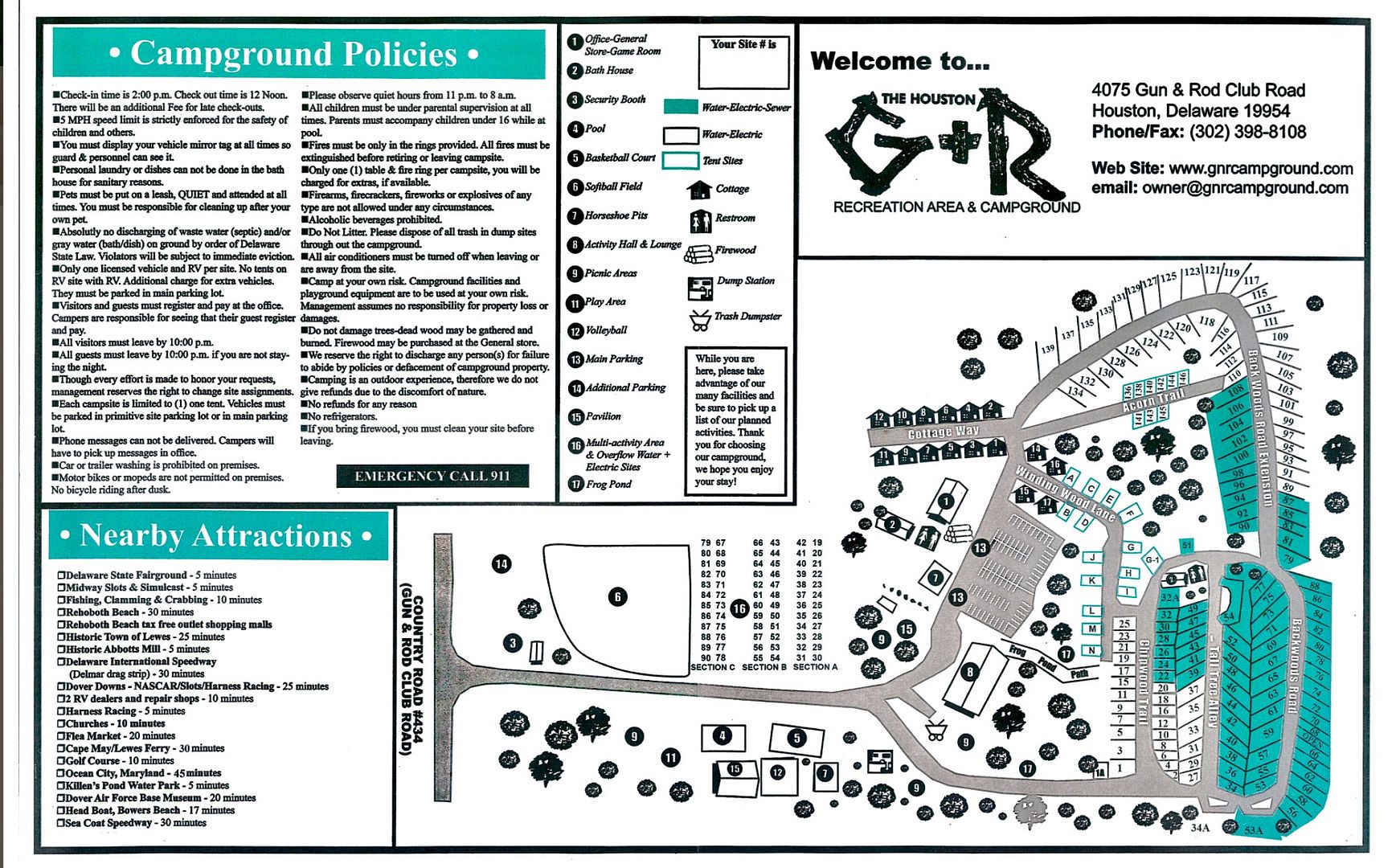 Amenities: As you enter the park, there is a small swimming pool (closed for the season), full basketball court, and volley ball court. Storage for RVs and boats is available in a large parking lot near the office.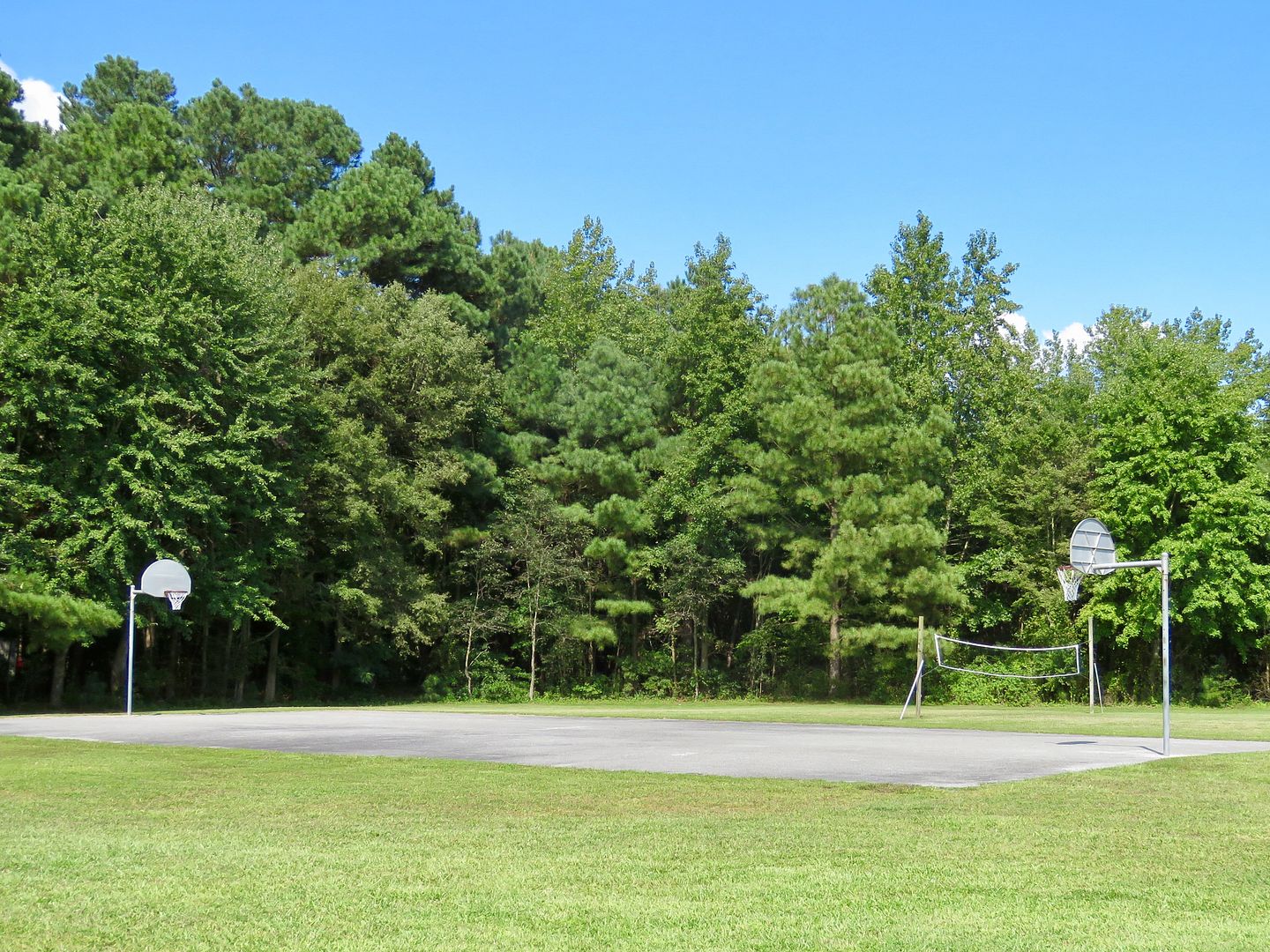 There is a large activity center that houses a commercial kitchen and large open area for events. One of the two seafood festivals each year was held the weekend we stayed here. Due to my recent bout of food poisoning from seafood, we skipped it (otherwise we would have enjoyed it very much). I am hoping my appetite for seafood returns soon.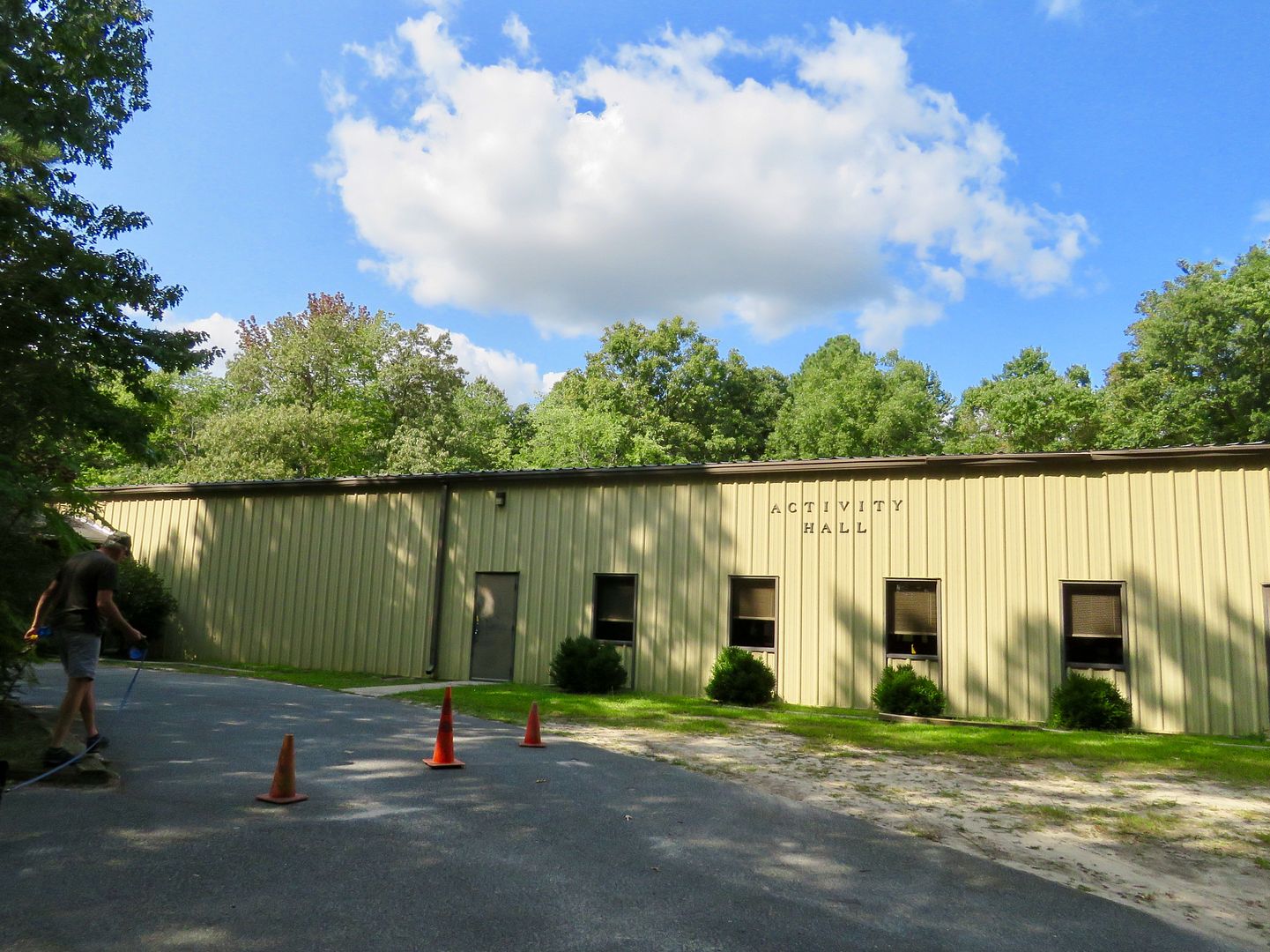 A screened-in pavilion and outdoor grill are available for use by guests.
Cost: $184; $46/night
Management: One of the reasons I gave this park such a high rating is because of the management. They were great and flexible with our reservations and length of stay, easily accommodating the uncertainty of our plans.
General Comments: Overall, this is a very laid back place. If you're looking for planned activities or things to entertain children, this is not the place for you. But after our stay at Delaware Seashore State Park campground it was great to have someone to go to if there were any problems (which there were not). It was just a nice relaxing place to stay.
The day before we left, the owner and several of his friends were showcasing their vintage, restored vehicles. Loved the green truck!