Rating: 4 on a scale of 5
Location
: This park is in a relatively remote area west of Lynchburg. And as the name suggests, it is very close to the northern section of the Blue Ridge Parkway. Both the Appomattox Court House National Historic Site and the Booker T. Washington National Monument are about an hour from here (two places we visited while staying here). One significant issue with the location though for us was that we had NO AT&T cellular service at the park or in about 8 miles in either direction. Otherwise, it was a perfect location for our visit to the area.
Lot size: We had a large shaded, pull-through, full hook-up site (B14) with cable TV. The park also had wifi, but it was very slow much of the time. There was a nice picnic table and fire ring at each site. We ate outside (and had a fire) when John's sister, Nancy, and her husband, John, came to visit us for a day during the Memorial Day Weekend.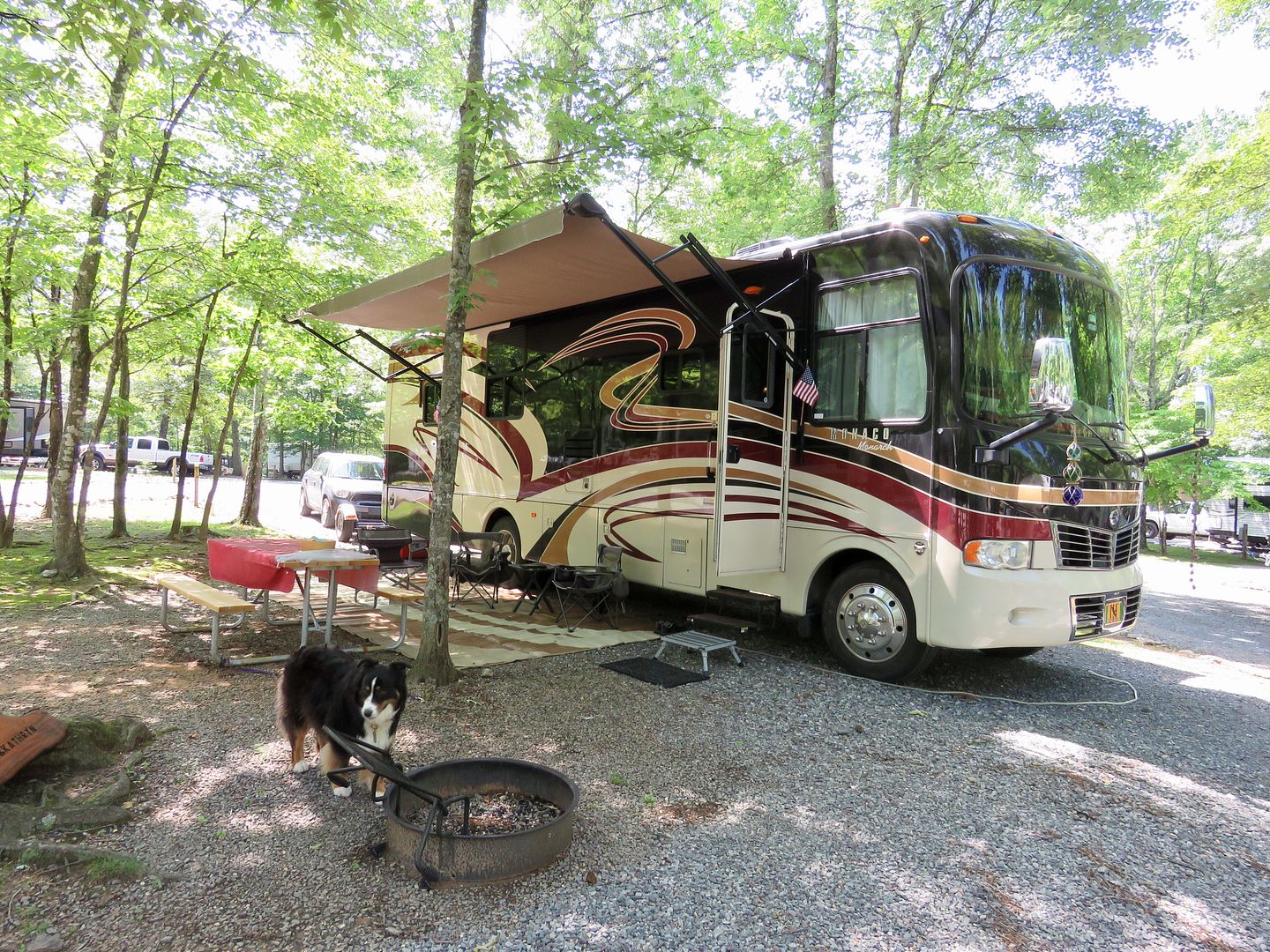 John did a little roof maintenance while we were here.
The park was busy over the weekend, but not so much the other days we were there.
Cabins of various sizes are also available for rent at this KOA.
Amenities: Like most KOAs, there are loads of amenities here. There is a swimming pool, games/activities (shuffleboard, horseshoes, playground, jump pad, gem mine, etc.) and a fishing pond. There is a hiking trail (although it was a little muddy due to rain) that we enjoyed walking with our sweet doggie, Sadie.
Over the weekend, the kids had a great time riding on this train. Sadie thought it was pretty cool, too, but she was not allowed on it!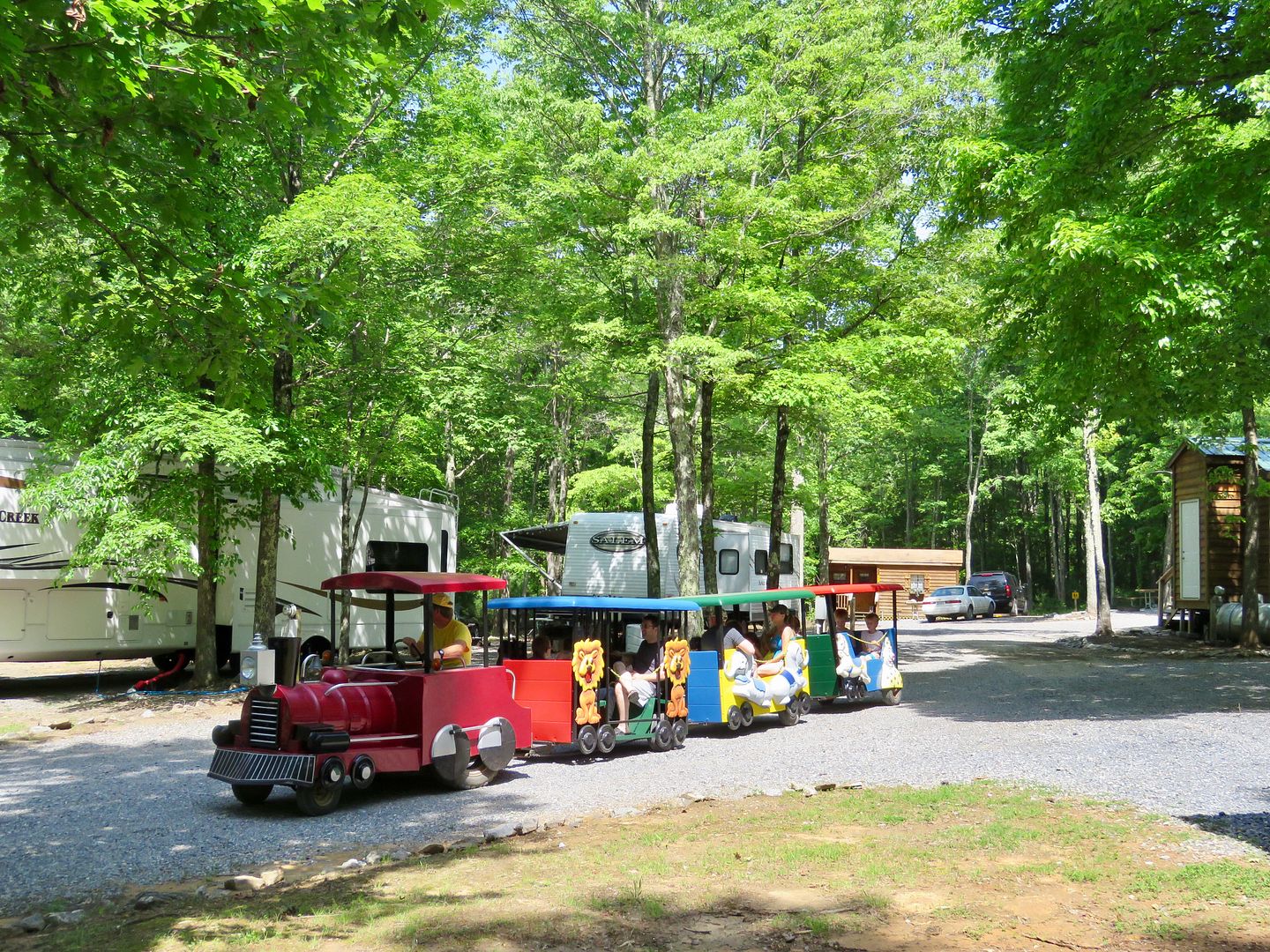 There is also a catch and release fishing pond. There are four tent sites along the bank of the pond.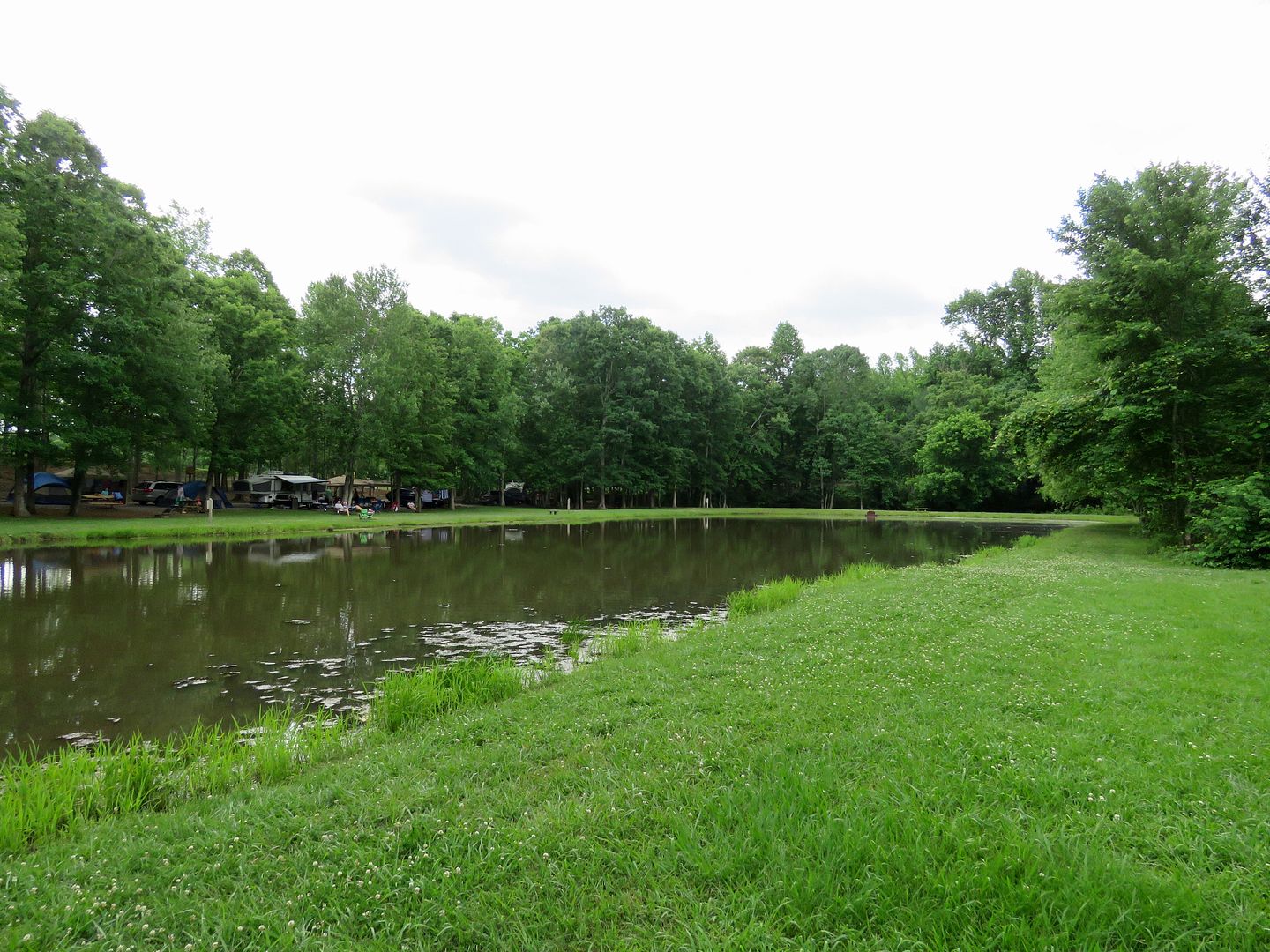 There are individual bathroom/showers in this centrally located building.
Cost: $360 for the week, including the Memorial Day Weekend
Management: The folks working in the office were very friendly and efficient. We were escorted to our site, which is always convenient. The park is very well maintained with lots of fun activities and things to do.
General Comments: Other than the wifi/AT&T reception issue, this is a great place to stay. And it is no reflection on the park that AT&T does not provide coverage in their network here. This would be a great destination for a family vacation where you can enjoy the outdoors. We enjoyed our stay at this place.