Several years ago my brother advised that a mutual childhood friend, Bonnie, and her husband, Earl, were making plans to sell their home, contents, etc., and begin the full-time RV lifestyle. She and I connected on Facebook, corresponded, and have kept up with each other via social media and our blogs since.
When I posted our stay in
Cave
City
,
KY
, on FB, Bonnie sent me a message saying they were headed our way in the next couple of days. Coincidentally, they had reservations to stay at the very same RV park where we were staying (
www.cavecountryrvpark.com
).
We agreed to meet for cocktails at our place one night and their place the next. The night before our departure, Bonnie prepared dinner for us and we brought some side stuff, too. I can't tell you how much fun it was spending time with them both. Good food, drinks, and conversation!
And, of course, they met our doggy, Sadie, and we met their sweet girl, Maggie.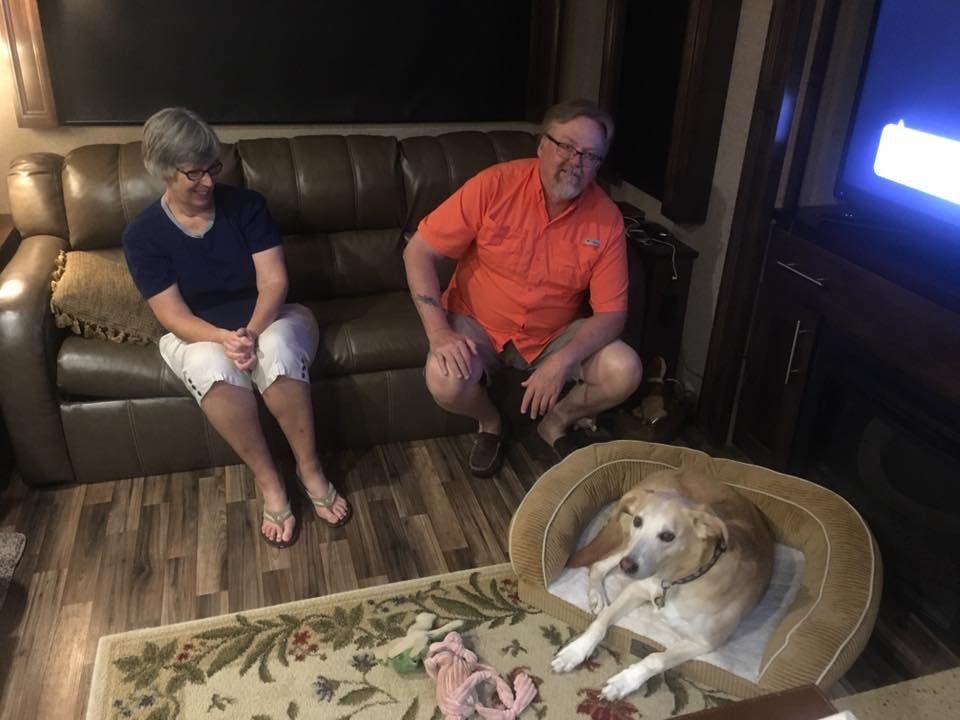 Bonnie, John and I all went to the same high school (South Mecklenburg) in Charlotte, NC, graduating in 1970, 1967, 1971 respectively. Therefore, we had many friends in common from that time. We figured out that we had not seen each other for about 50 years! Holy smokes!! So, now you know, this is one reason why I really do like Facebook...it has enabled me to reconnect with so many people that I had lost touch with for decades.
Check out
their
website
,
meanderingpassages.com
, for some awesome photos (courtesy of Earl), their RV adventures and plans, their beautiful
Vilano
5th Wheel, and other interesting stuff. The layout of the Vilano is like an upscale condo with lots of high-end features...so very, very nice.
Until we meet again, safe travels to Bonnie, Earl and Maggie!