Learning about Carrabelle Beach RV Park from friends,
Bonnie
and
Earl
, (when we ran into each other near
Mammoth
Cave
, KY, last year), we booked the month of April here many months ago. Coincidentally, Bonnie and Earl had booked a month stay here also beginning April 15.
Earl is a great
photographer
(I appreciated the tips), and they maintain a
blog
about their full-time RV life (and more) at
meanderingpassage.com
.
They have a beautiful Vilano 5th wheel where all of the entertaining happened. The kitchen, living room, and dining table provide lots of functional and comfortable space, much more so than our Class A motor coach. Bonnie is a fantastic cook and it was great fun socializing before, during, and after dinner. (And thanks for the great wine, too!) Bonnie tried out my (relatively) new, fold-up, bike and you can see their rig in the background. It reminded of us when we were kids in Spring Valley in Charlotte, NC.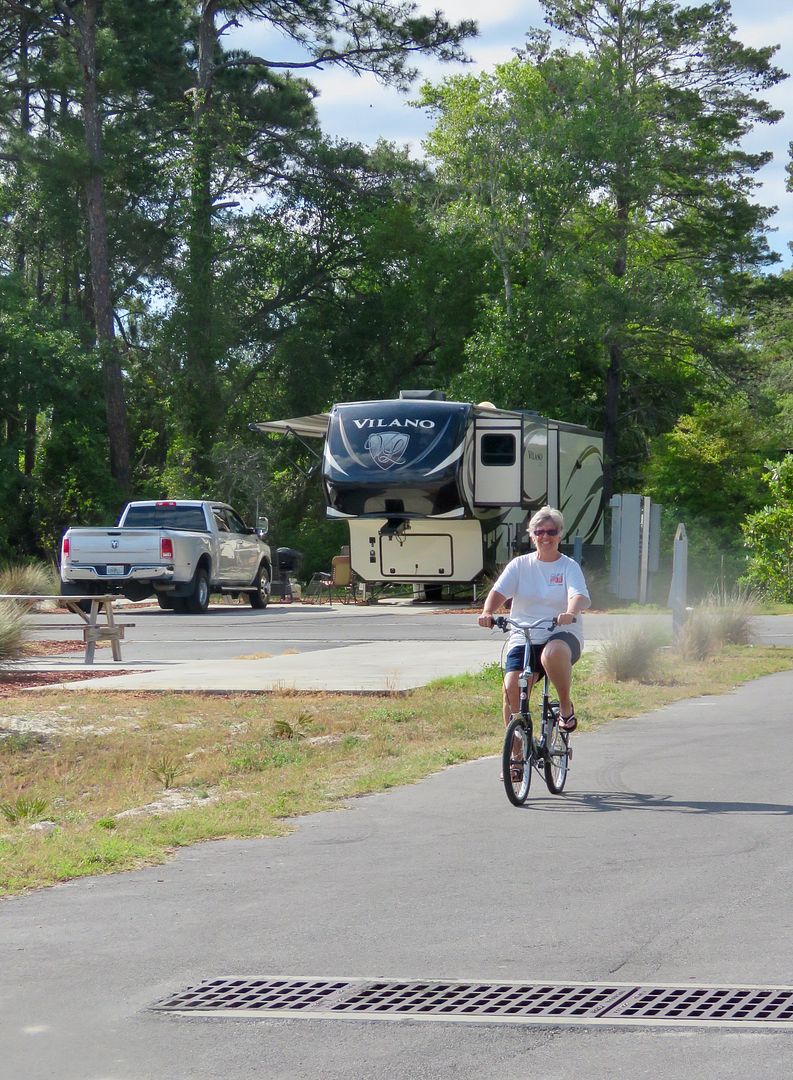 I love playing
games
and Bonnie
shares
my
interest
...yay!! We play Words with Friends on line every day. The guys played a few games of
Bananagrams
and
Qwirkle
with us, but Bonnie and I played a lot more. Loved it.
Saturday night
we played
Yahtzee
after dinner, Bonnie rolled Yahtzee four times in three games...what the heck?!?
We took our sweet doggies, Maggie and Sadie, for a couple of walks together on Carrabelle Beach. They had a blast, and so did we. It is so very beautiful here and is just a short walk across the street to access the beach. A large sandbar at the point is a great play area for the dogs, and us, too.
Thanks for all of the food, drink, and fun, Bonnie and Earl! Safe travels. We are already looking forward to when our paths cross again.