You will find great local historical collections at this museum! There is a wide array of well-documented displays in the two small buildings of the museum from Native American artifacts dating back 5,000 years to current times.
Here's a synopsis of this small community that we found interesting:
- There are seven keys (islands) that comprise this community of Cedar Key (Way Key, Seashore Key, North Key, Depot Key/Atsena Otie, Snake Key, and Scale Key).
- The first cross state railroad (Atlantic to Gulf) was completed in 1860 and the last train trip in 1932.
- Pencil industry: Cedar saw mills were built on two of the keys by pencil companies. Slats of cedar were sent north from here to manufacture pencils.
- The boom for Cedar Keys was 1880-1890 with a population of approximately 1,900 (today it is around 900).
- A fierce hurricane hit Cedar Key in 1896 with powerful winds (125 mph) and a huge storm surge (called a tidal wave at the time.) The pencil factories were severely damaged (along wih many other business and residences), and never re-opened.
- In 1909 the business to manfacture palm fiber was started by two individuals and was in operation from1910 to 1952. There were only 3 fiber factories in the world, all in Florida. The Standard Manufacturing Co. was the largest and was the only one to make brushes. The brushes were used to brush ("clean") clothing and hats. Here's what they looked like: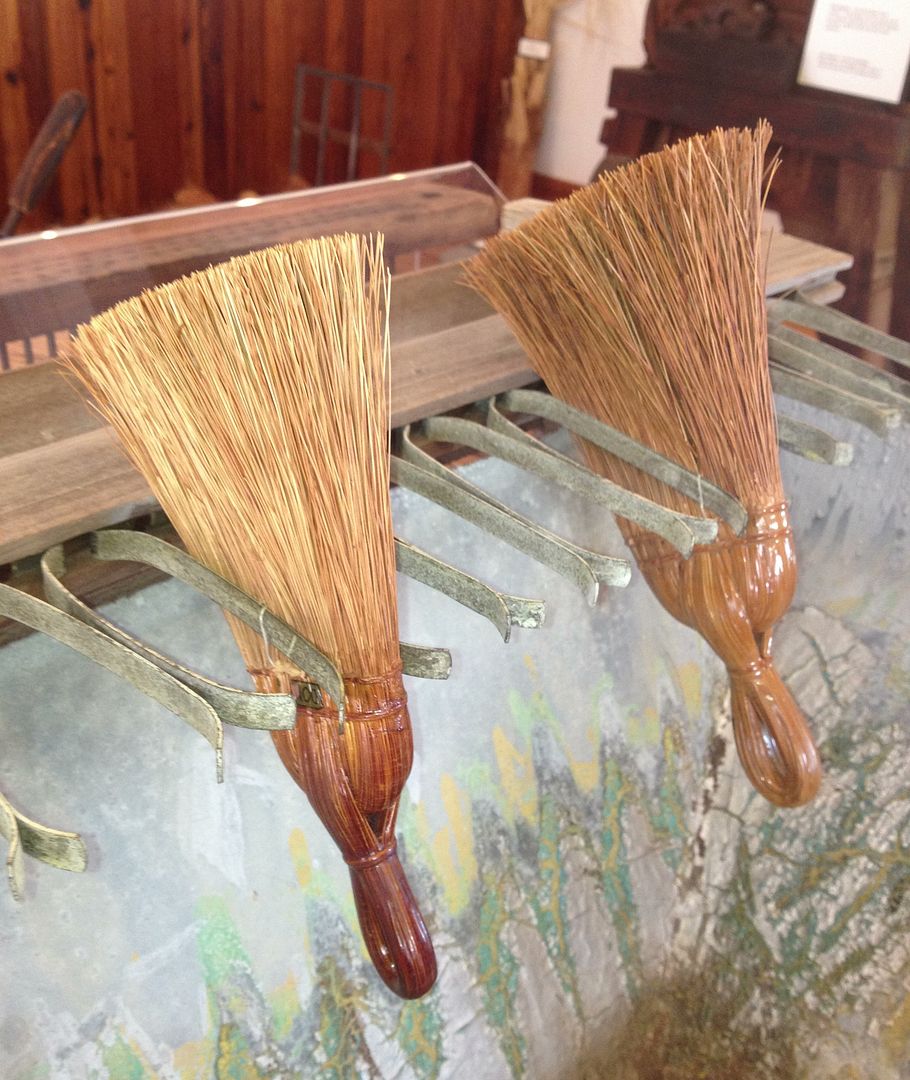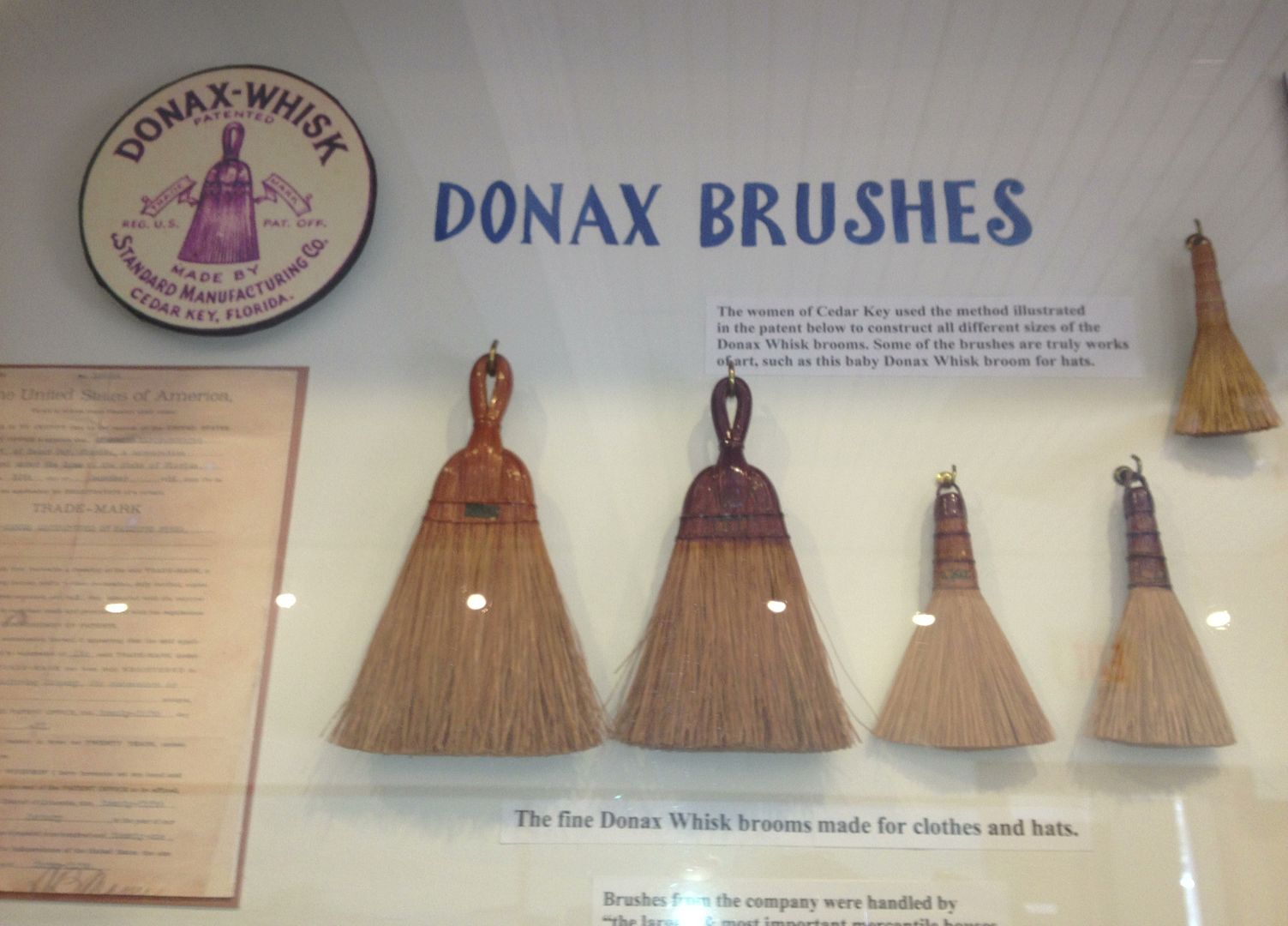 - The source of fiber was the young Sabal Palm that still grows abundantly in FL. The process was labor intensive and the factory played a key role in the economy of Cedar Key for 40 years. The fiber was sold to brush companies in the U.S., Canada, and Europe.
- Another very destructive hurricane hit Cedar Key in 1950 (24" of rain in 3 days). 50% of homes were uninhabitable and 90% were damaged. It virtually destroyed the fleet of boats owned by the fishing community (fishing was the primary livelihood). And the palm fiber factory was so severely damaged that it closed 2 years later, never to re-open due to the advent of synthetic fibers.
- Today aquaculture (clam bed farming), fishing and tourism are the primary industries.
Photos of some other interesting displays:
This safe in the local bank (circa 1912) was quite small but weighed 4,200 pounds. Didn't look like anyone could break into this thing!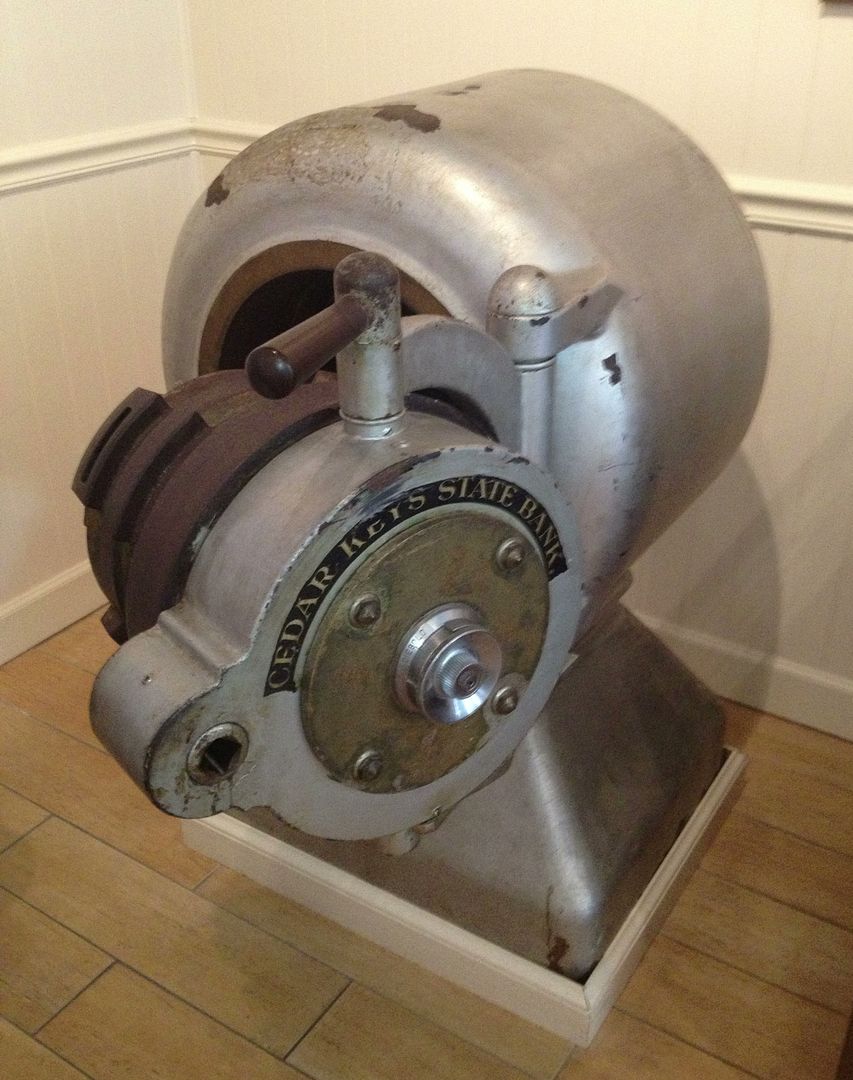 Crabbing is an important part of the fishing industry. Here's a photo of the two types they catch: blue crabs and stone crabs. What I learned today is that when stone crabs are trapped, the large claw (one on the right below) is removed and the crab is returned to the Gulf. It will grow a new one!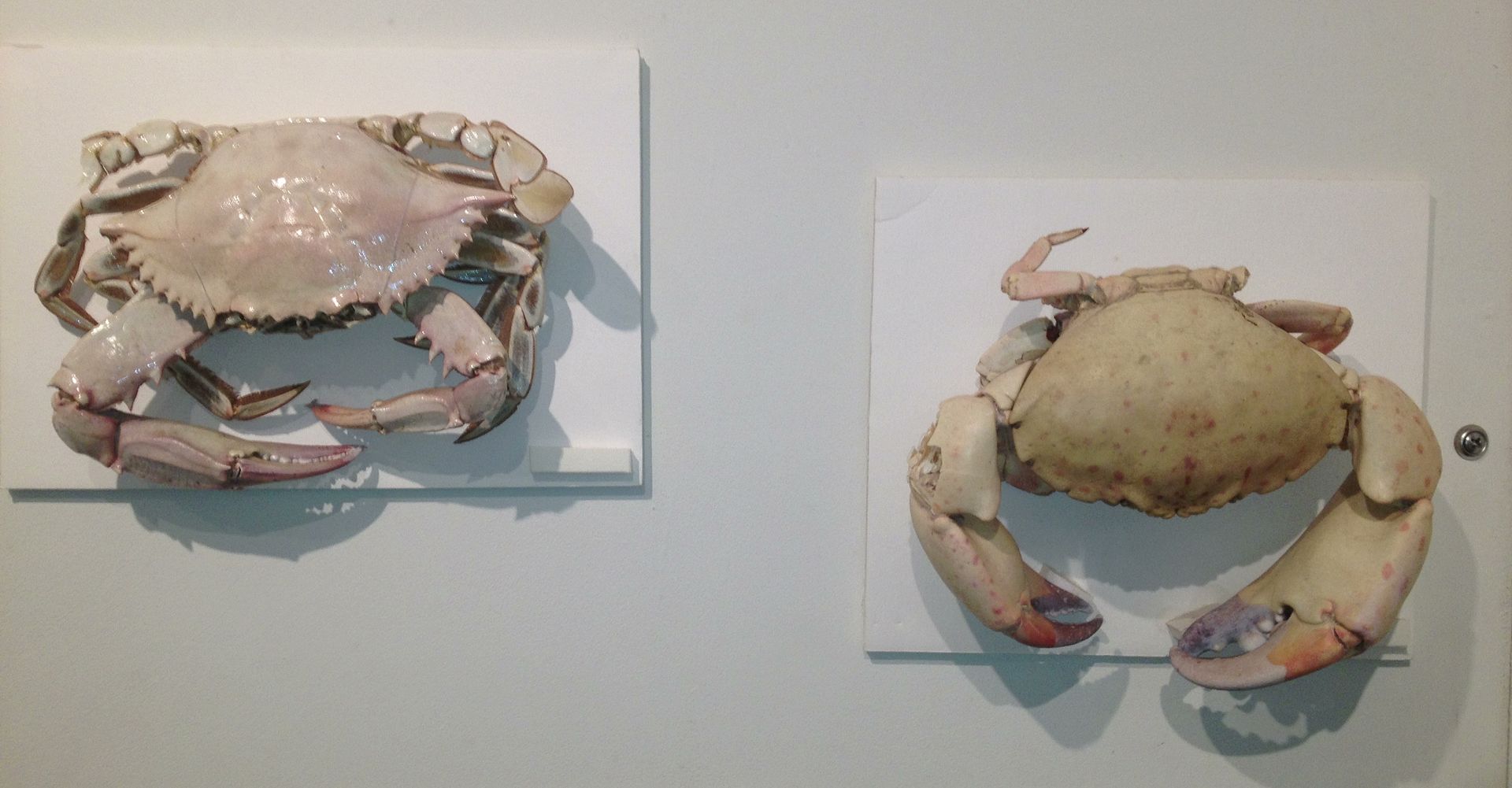 A dsplay of antique medical instruments was fascinating. Here are some ob/gyn tools (yikes!).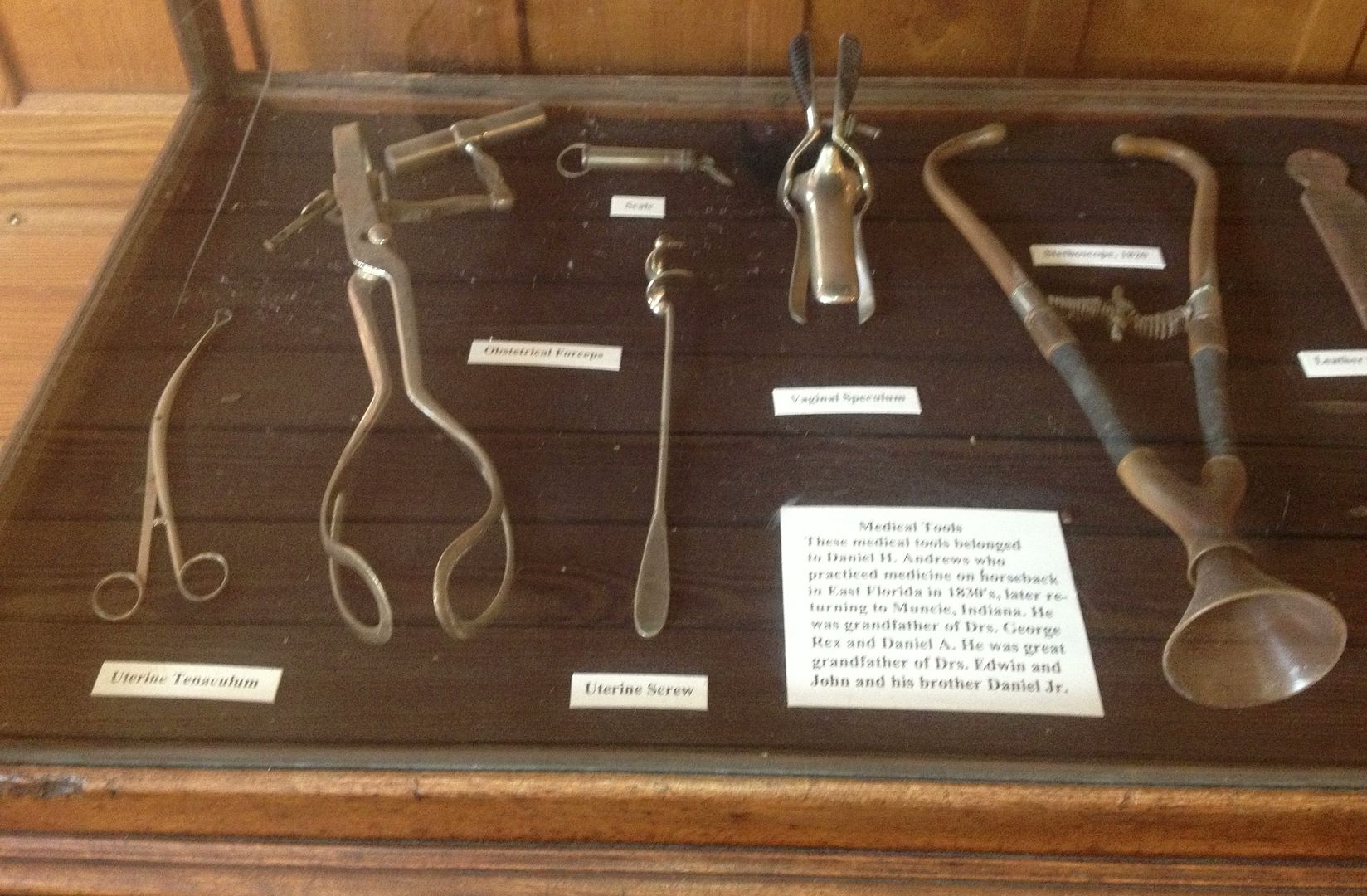 And I hope these were used on the men, but I cannot say for sure (rectal dilators). What??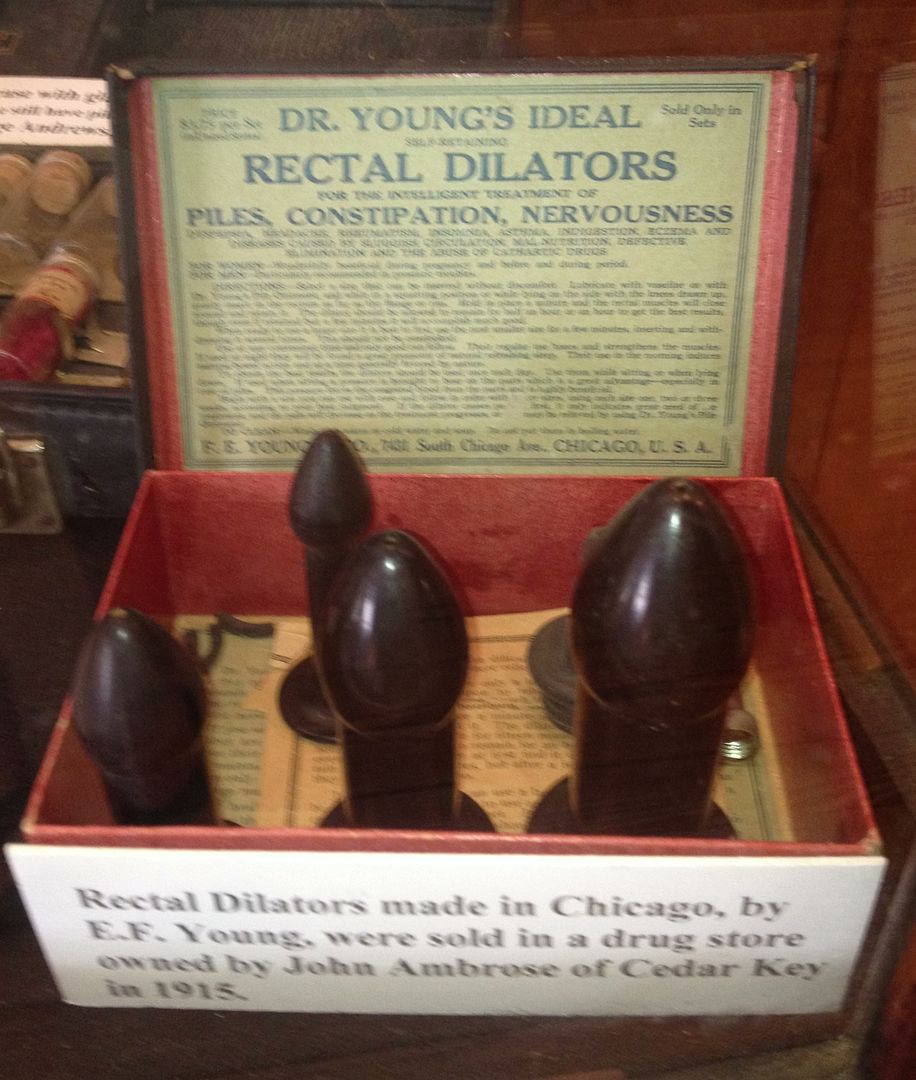 Steamer trunk - I have always read and heard about these things, but was fascinated to learn that the inside look like this...a place to hang up your clothes, put your shoes, and drawers for your other clothing or accessories. Nice design. They just should have had wheels on them.
Here's the phone from the fiber factory. The phone number was 6 (no 10-digit numbers to remember).
This place is a must see if you visit Cedar Key. Loved the locals we met there.