If you are a hot dog connoisseur (which we are, of course) and are looking for a value-priced meal in Las Vegas (which we were, of course), check out Pink's Hot Dogs on the Strip at Planet Hollywood Las Vegas.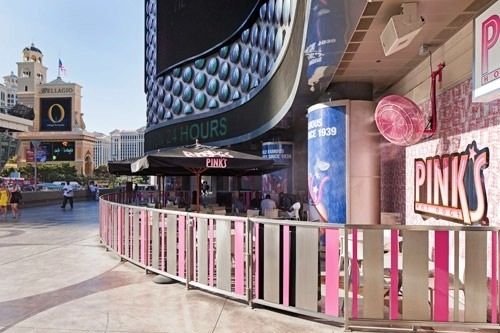 Pink's is a landmark hot dog restaurant in the Hollywood area of Los Angeles. It is a family-owned hot dog stand that opened in 1939. At that time you could purchase a chili dog with mustard and onions on a steamed bun for 10 cents. This remains the top-selling item on the menu today. This Hollywood institution opened Pink's Hot Dogs in Las Vegas in 2009. Several amusement parks also have Pink's restaurants.
Their menu is legendary. John had the famous Chili Dog (favorite choice on the menu); Amanda and I had the Bacon Chili Cheese Dog (what can I say?, we were hungry!); and, of course, Justine had a turkey dog (how crazy is that?) Plus fries for us and cheese fries for Amanda and Justine. A selection of hamburgers can also be found on the menu, but we stuck with the dogs.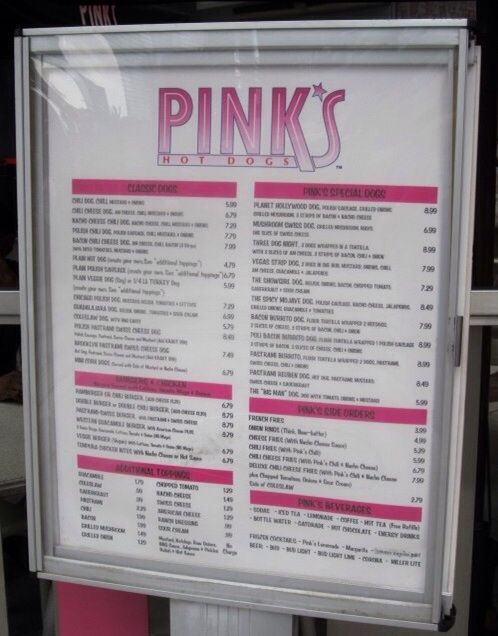 Orders are placed and delivered inside. A patio for dining is outside on the Strip. There were street performers near the location...so free entertainment was also provided. What a deal.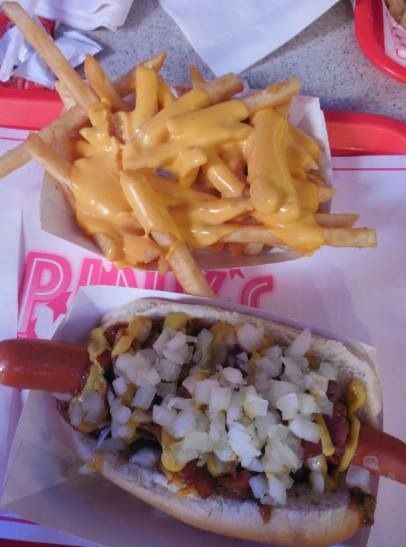 This place also serves all kinds of alcoholic beverages, which is a little crazy. But as you know, anything goes in Vegas!
It was a great meal and provided an opportunity for us to do some exploring on the Strip after checking into the hotel. We left Sadie in the room and enjoyed seeing the sights. You can be assured of seeing some crazy folks at this locale any time of the day or night. We were not disappointed.
Pink's Hot Dogs rated 3.5 (out of 5) on Trip Advisor. And 4 stars on Foursquare. Cost = $. You'll like this place if you like hot dogs... If you don't, skip it.
You can check out the menu and address at their website shown below.
Website:
www.pinkshotdogslv.com