This is our first RV-lifestyle Thanksgiving. For many years, we have celebrated the holiday by preparing a large dinner for family at our house in Pennsylvania.
This year John and I discussed what we wanted to do for dinner and considered these three options:
1. Prepare our own Thanksgiving dinner in our motor coach;
2. Go out to eat; or
3. Join in the Thanksgiving potluck meal in the recreation hall here at Desert Trails RV Park.
John, of course, wanted us to do whatever would make me happy (what a sweetheart) and was willing to do any of the three. In the end we decided on option #3. Some of the considerations that went into the decision were:
- Our kitchen is small to prepare a traditional Thanksgiving dinner. It could be done...but it seemed like too much work for just the two of us. The obvious downside of not preparing our own dinner is that we would not have the yummy leftovers.
- The restaurants I found that were offering what I thought would be a good Thanksgiving meal were about $60/per. Add drinks and tip and I knew we would spend over $200. I would prefer to spend our fixed income on doing other stuff. It just didn't seem worth it. The obvious positive to this option is no effort other than driving to the restaurant.
- The primary positive aspect (that won out in the end) of the potluck meal was that we would have a Thanksgiving dinner with a wide array of side dishes in addition to turkey (provided by the RV park) as well as the social aspect of the option. Everyone who attended signed up to bring an appetizer, vegetable, or dessert. Also, we all brought their own beverages (wine, of course, for me), dishes/utensils, and, of course, dish. We brought a fruit appetizer that we had a lot of fun preparing this morning.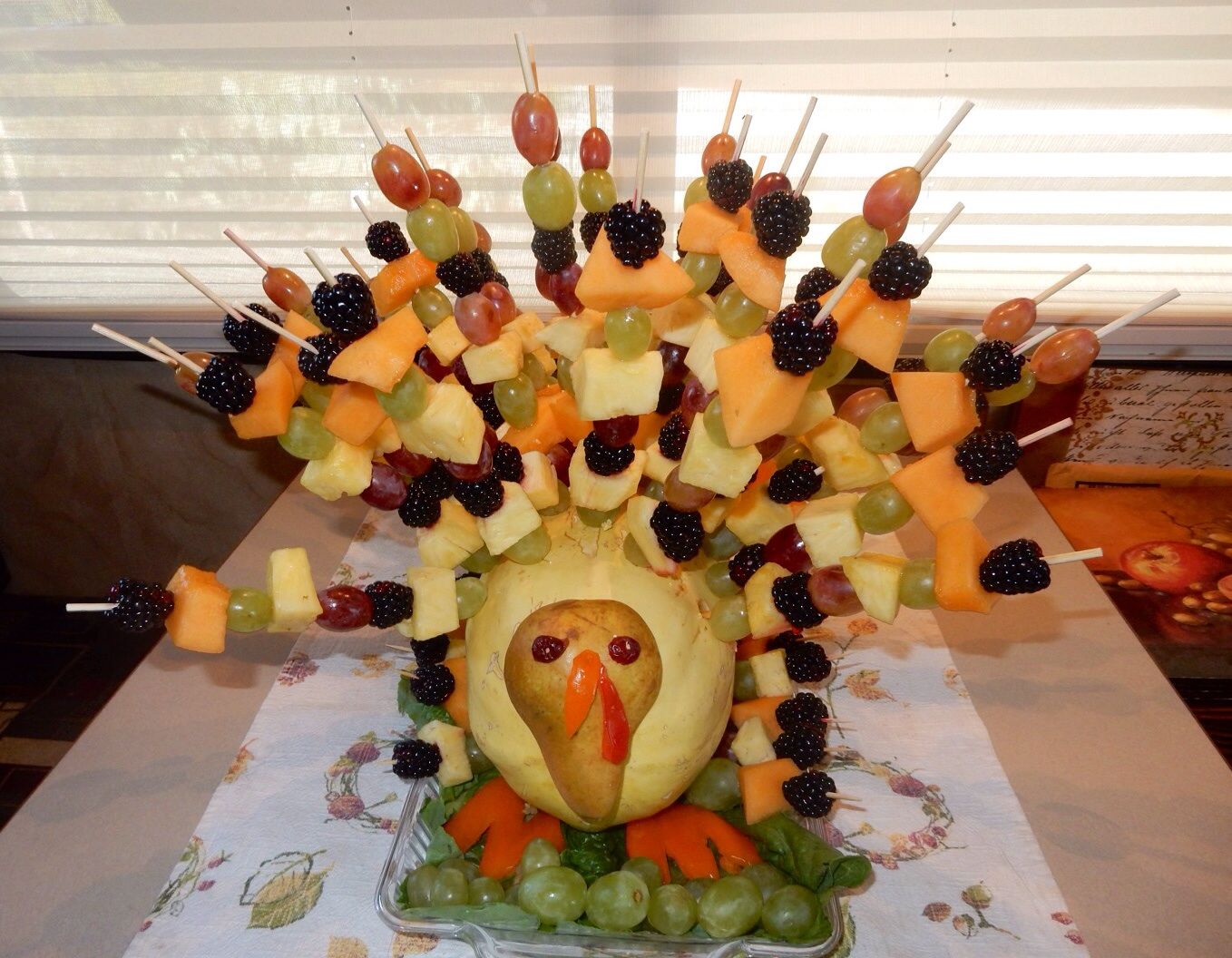 Here are a couple of photos of the buffet tables, although not all of the dishes had arrived when I took these.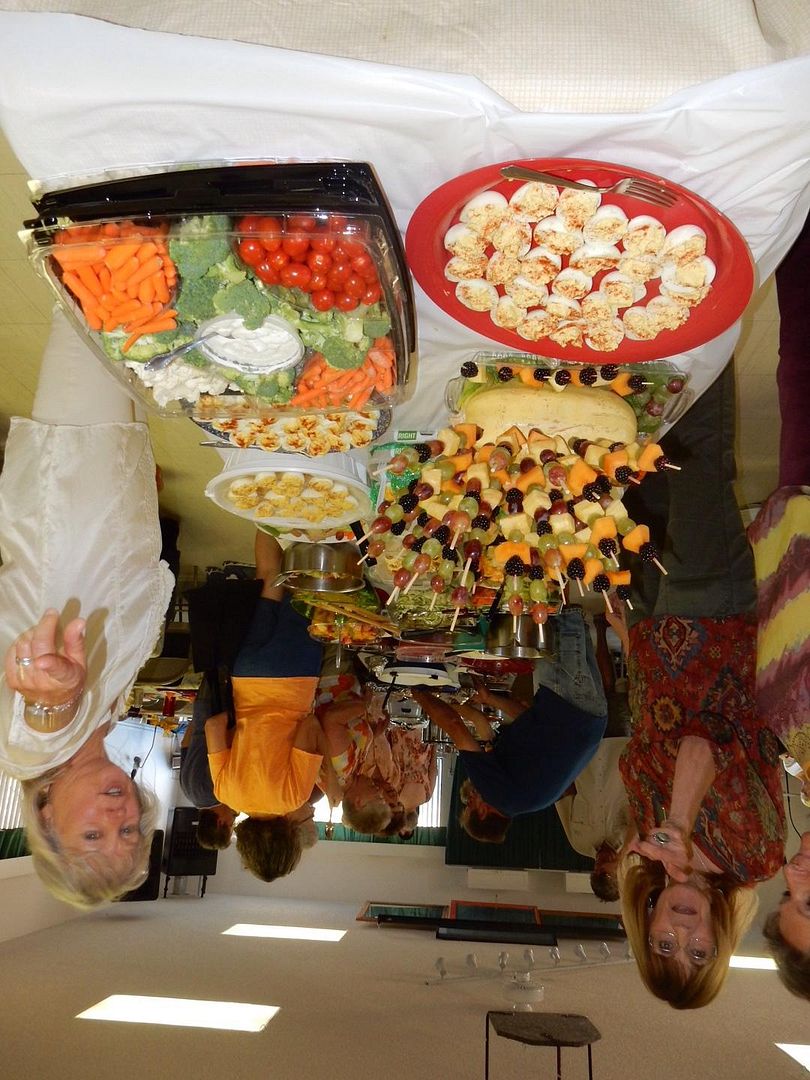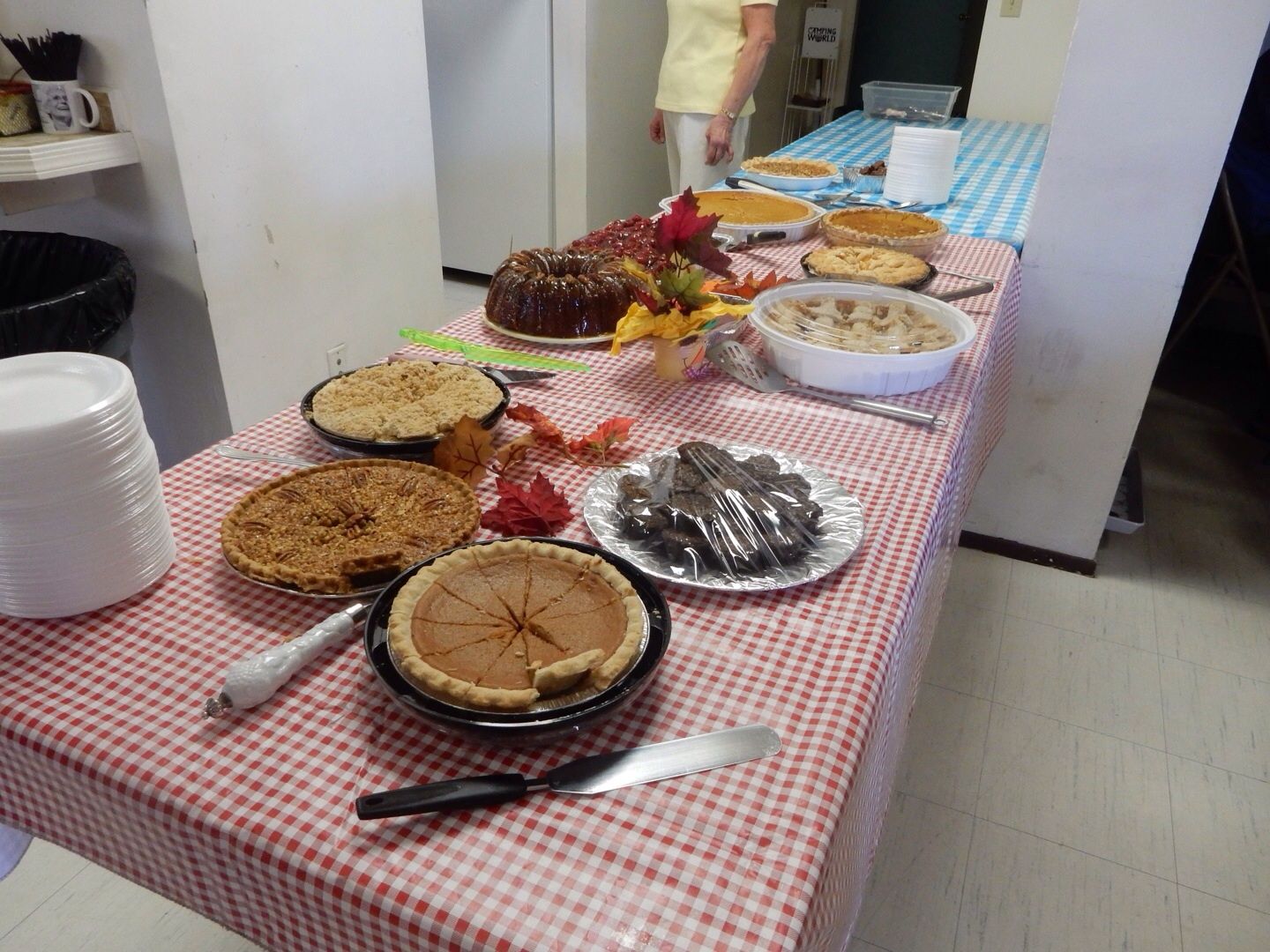 I was very happy that our fruit dish was a big hit and everything was eaten. So I learned that preparing a dish and sharing it with a group of folks I do not yet know is a lot of fun! We really enjoyed all of the delicious food that was prepared for today's meal. We left there stuffed, just as it is supposed to be on Thanksgiving.
The other positive aspect of our choice today is that we got to meet some very nice people and share information about our RV travels. We learned some good tips about Oklahoma (a state we have not yet visited) from a couple at our table, Donna and Jason, that we will follow up on when we visit that state. We also discussed the things to do in Tucson - they have been here a month so have seen much more than we have.
Of course, we spoke with our kids and some of our siblings (well, those we could reach today). It was a wonderful Thanksgiving. And we are so very thankful for our many blessings.
Perhaps what made this Thanksgiving so different from the previous ones is the weather. Here in Tucson, it is about 80 in the afternoon and in the 40s at night. When we spoke to our daughter in Chicago, the temperature was in the teens. NC was about 50 degrees but in the 20s at night. And our home town in PA was in the 30s. So yes, one of the great things about an RV lifestyle, is that you can follow the weather. No more of those snowy, icy, frigid winters. Although I will admit it was a bit strange for it to be so hot!
Next on the agenda is pulling out the box of Christmas items we brought with us and decorating our motor coach for the season. We used to have enough Christmas stuff to fill a small room...in fact, we kept it all in our storage unit! We will be starting new Christmas traditions this year as well.
We are hoping that each of you had a wonderful Thanksgiving, as well.