Rating: 1 on a scale of 5

Location: All of the RV parks in Concord, NC, are located near the Charlotte Motor Speedway (within walking distance) and are used primarily by NASCAR fans.
It is also close (around 5 miles) from where Zach, Rachel and our grandson, Andrew, lives. Because our primary purpose in visiting Concord is to spend time with them, we stayed at Glenwood Acres where we stayed the previous year.
Lot size: The last time we stayed here we had a shaded, pull-through site (there are only four of them). When I called for reservations in April, I specifically requested one of these sites and was advised at that time they could accommodate us.
When we arrived, however, the owner of the park did not honor our reservation. We ended up in a back-in, no shade, small site with neighbors very close on each side. During race events RVs are stacked double in this area (the cones are placed on the electrical outlets). Also, sewage and water connections are below ground and were very difficult to hook up. Their website advertises sites with concrete pads, but most are grass.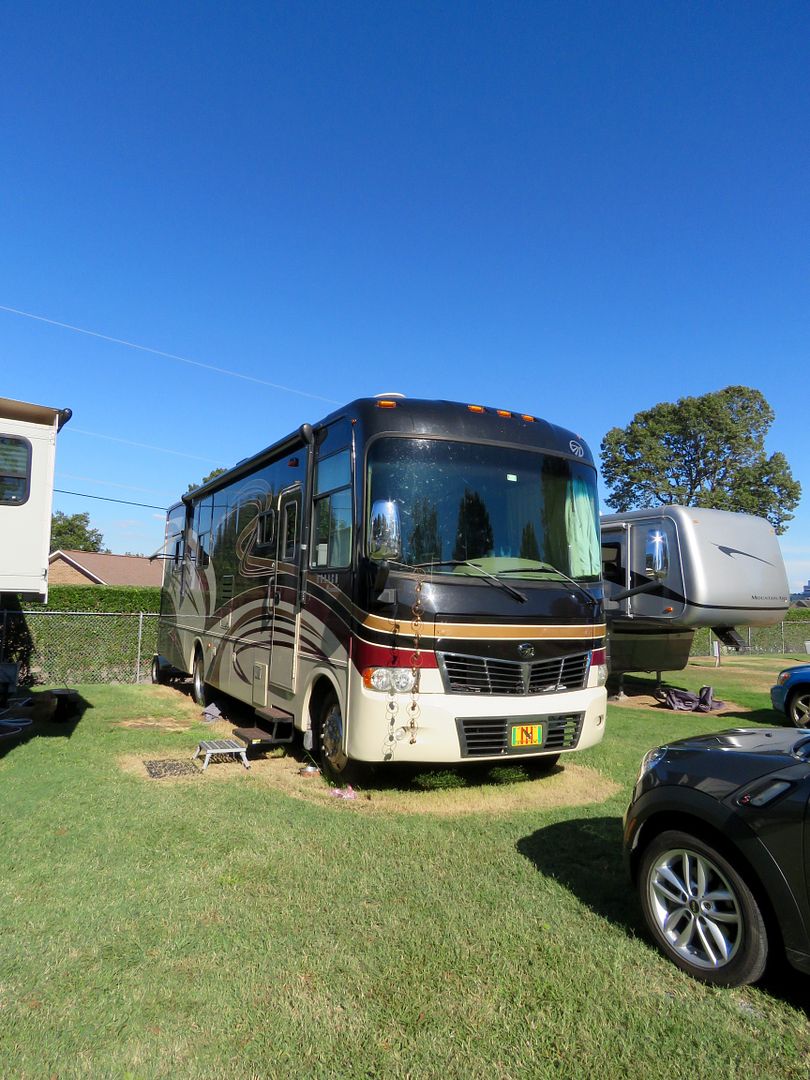 There are lots of RVs that are, apparently here on a full-time basis. Many of them are quite shabby, although there are some permanent mobile homes here that are well maintained.
Amenities: We had a full hook-up, back-in, site, but there are no other amenities here except free wifi (no bathhouses, picnic tables, or fire rings at any site, cable TV, etc.) You take your trash and throw it into the rear of this truck.
There is a gas station, convenience store, and propane near the RV park.
Cost: $300 (based on original monthly rate of $400)
Management
: I had made our reservations almost 6 months in advance for a one month stay
from September 9 to October 10
, requesting the same site we had when we previously stayed here. I specifically asked if there were any Charlotte Motor Speedway events during that time, as I know these RV parks are packed when there is a race. In April, they assured me they could accommodate us, no problem. However, when we arrived, the story suddenly changed. The owner did not honor our reservation and advised us: 1) we could only stay until October 1 due to a race event; and 2) we could not have one of the pull through sites (he didn't want to "tie them up" for even three weeks when there were no race events). I politely advised him that when I had called, they said otherwise. That's when things got a little nasty, and he blamed his employee (who took the reservation) for not "understanding" their policy. They have no software to manage the park and take the reservations on a sheet of paper. We saw our reservation form (dated
April 12
) that had all of the specifics I just described. The owner ended up telling me, quite rudely, that we could only stay the three weeks and that I could take it or leave it. He then asked if I wanted a shaded lot, to which I said yes. We ended up in a no shade site. The messy office, and yard in front of it. were filled with Trump/Pence campaign signs and a Hillary for Prison one, too.
I surmised that this accounted, in part, for the terribly rude behavior and poor business practices here. When I attempted to pay with a credit card, I was informed they only take cash. But when I said I would get a check to pay them, I was informed they would not take a check, it had to be cash. Overall, I think there are some sketchy business practices going on here and, clearly, honoring a reservation is just one of them. You can be assured we will never stay here again.
General Comments: There are only two reasons I gave the park even a rating above 0, and that is because the rate was so reasonable and there is a large field where we let our doggy, Sadie, run off-leash each day. Having said that, this is our most negative experience at an RV park since we began full-time RVing almost three years ago. Stay away from this park!
Website: Www.glenwoodacres.com