Rating: 4.7 on a scale of 5
Location
: This campground was a great location to explore the Lakes Region of New Hampshire. It is close to huge Lake Winnipesaukee as well as the town of Meredith. There are many attractions in the area (museums, hiking, boating, etc.)
Lot size: All of the lots here are very large, back ins. Our site (#218) was surrounded by woods on two sides and we could not even hear our neighbor. The privacy of every lot is so nice. Large stone fire pits and picnic tables are at each site.
Park models and seasonal RVs can be found here, but all of them are immaculately maintained and look great. The lots here are frankly, ideal.
Amenities: This park has lots of amenities including cable TV (with MANY channels) and wifi (at an additional cost of $10 for the week for 2 devices). Because the local cable company scramble the signal, we needed a cable box (provided by the office). A $50 hold was planed on my credit card account until we returned it. Also, there is a card provided ($10 deposit, also returned at checkout) to open the gate at the entrance. Firewood is sold at the office. There are two washers/dryers at an on-site laundry in the bath house. There also guest restrooms in the office building.
The indoor pool and hot tub are really nice amenities at this campground. They are located in the same building as the office and open the same hours. A patio and playground directly outside the doors of the pool.
Next to the pool area, are a game room and rec room available during office hours. Also volleyball and basketball courts can be found on the grounds.
A fenced in dog run is located near the office. Our dog, Sadie, had plenty of room on our site to spend time outside.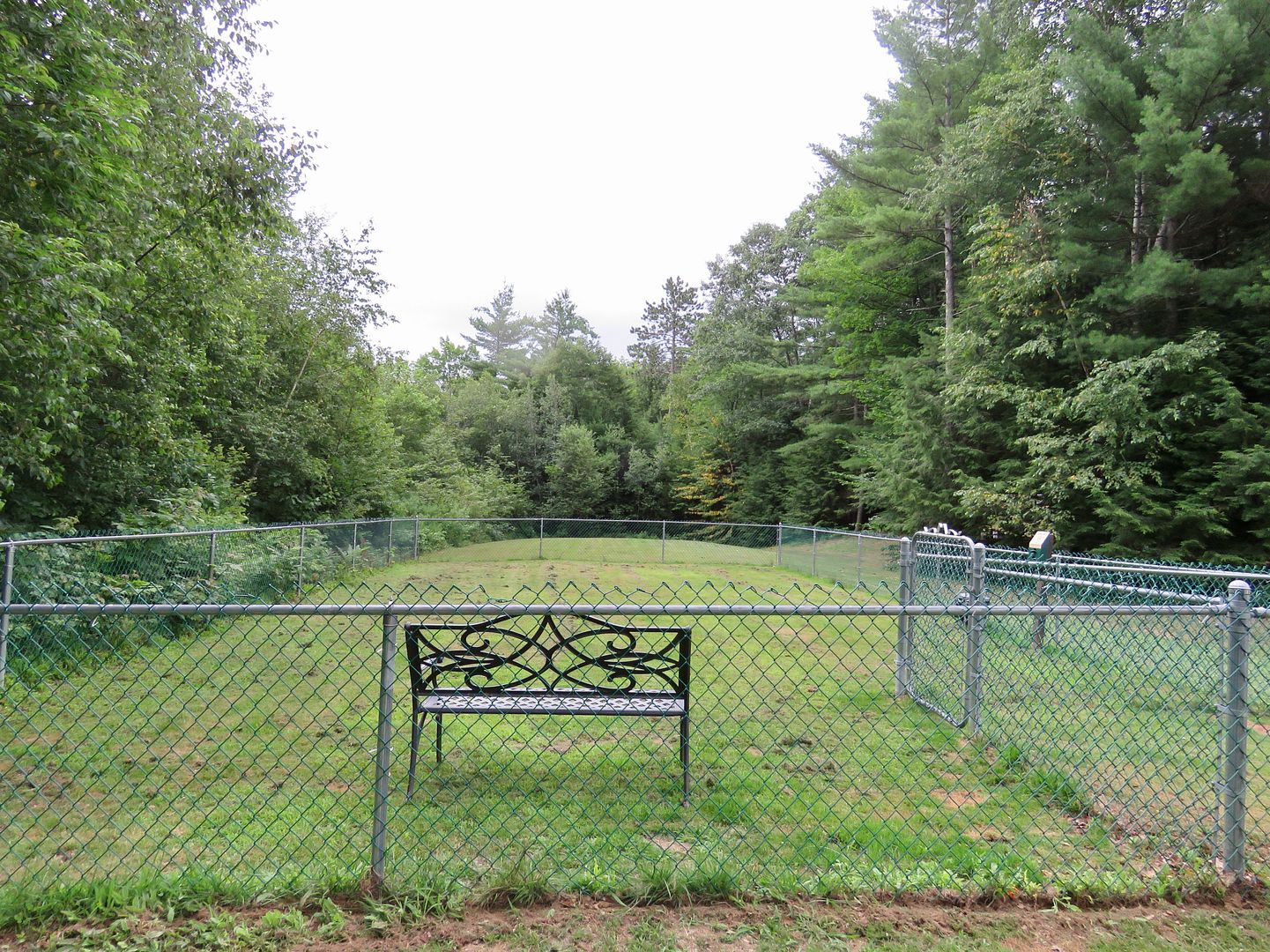 There is a sister park (Clearwater Campground) across the street that has beach access on Lake Pemigewasset. Boating and fishing are also popular activities on the lake.
Family activities are planned and held at the Pavilion and Beach at Clearwater. Guests at Meredith Woods are welcomed at Clearwater Campground.
Cost: $212 ($42.40/night)
Management: The folks in the office were great. Everything was handled very efficiently and a nice brochure provides lots of information about both Meredith Woods and Clearwater Campground. The office was open long hours each day we were there, 9 am to 9:30 pm, which was convenient.
General Comments: There was a really nice campground and we would definitely stay here if/when we are again in this part of the country. The size and level of privacy of the lots was probably the nicest feature along with the indoor poo/hot tub. The only real ding for this place is that laundry room was small with only 2 washers/dryers. (We went to a nearby laundromat and that worked out just fine for us.