Rating: 5+ on a scale of 5
Location
: The primary reason we made reservations here was to break up the drive from Niagara Falls to Vermont. After a day here, I wished that we had planned on a longer stay here. But, the location was great; about 190 miles from Niagara Falls and about the same distance to Salisbury, VT. One of the nicest aspects of the location of this park, is that the shuttle from the Turning Stone Resort and Casino will provided free transportation on demand from the campground. The Villages is open April through October.
Lot size: We had a full hook up, pull-through site (#305) with cable TV, wifi, picnic table and fire ring. It was located in the Yellow Birch Village area. The park has 175 sites (pull through and back-in) with level paved lots with a grassy area, too.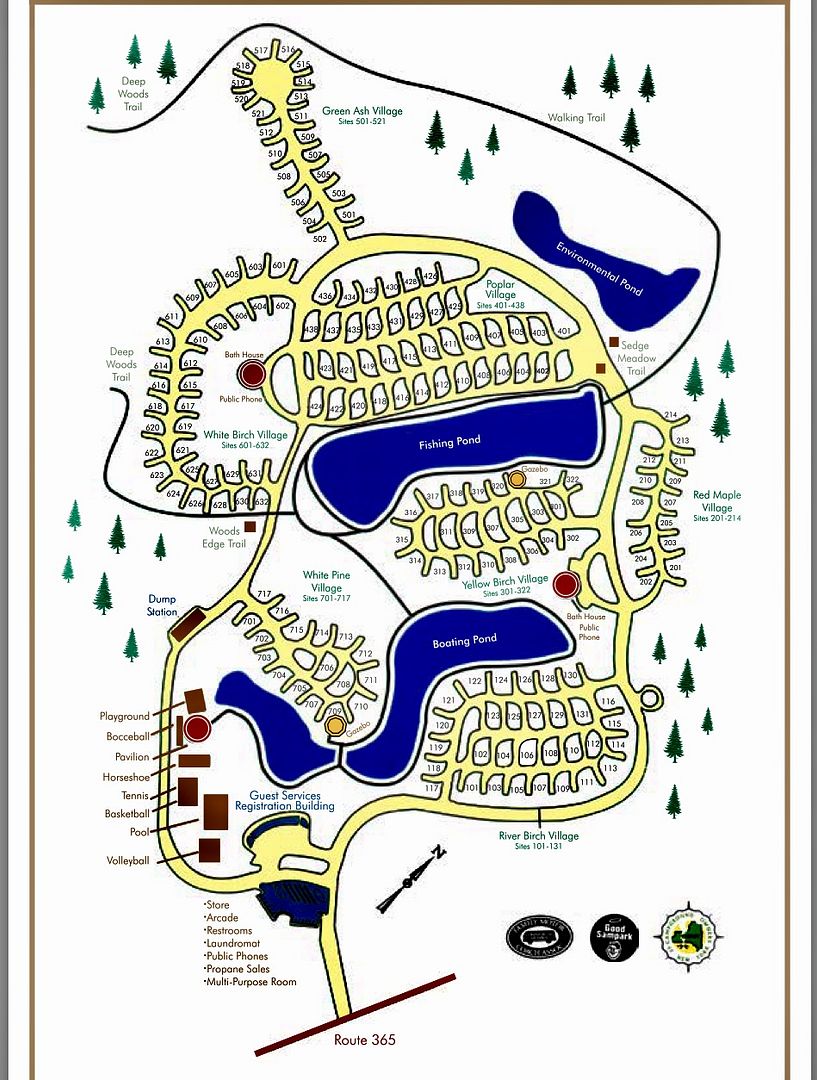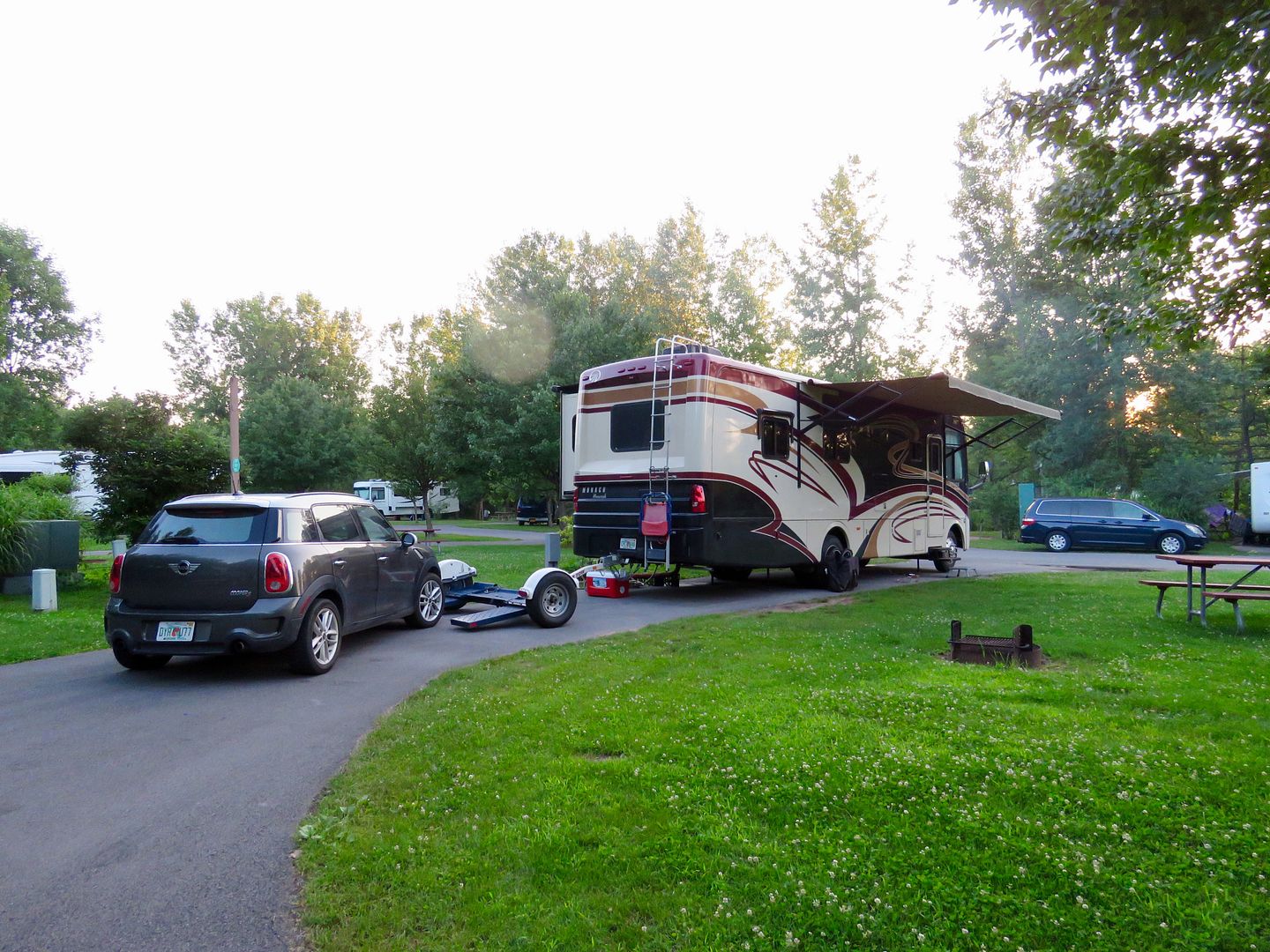 Each lot is a good size, some shaded and some overlooking the pond (back in sites).
Amenities: This park has world-class amenities and is part of the up-scale Turning Stone Resort and Casino. A schedule of weekend activities is provided at check-in. At the The Villages alone there is a pool and hot tub; paddle boats (for rent); game room (next to the office); volleyball, basketball, horseshoe pits, and bocce ball courts.
A large pavilion with fire pit and playground are also near the pool.
A catch and release pond (no boats) was near our site.
Propane is sold on-site. A laundromat and camp store is located in the Guest Services building. Two bath houses are in the campground.
Across from the pond is the Sedge Meadow Trail (part of the 2.5 mile trail system in the park) that winds past another pond through a forested area.
Cost: $45/night with Good Sam discount (a real bargain!)
Management: Check in was easy and efficient. Reservations can be made online or telephonically. The office provides a nice package of information about The Villages and the Turning Stone Resort and Casino. The Villages has a 10/10/10 rating by the Good Sam. This place was fantastic. We would highly recommend it to anyone looking for an RV park in this part of NY state.
General Comments: Another aspect of The Villages that makes it such a great place to stay is the nearby Turning Stone Resort and Casino. Located on Oneida Nation land, they have built an amazing resort with every conceivable amenity. There are four golf courses and two par-three courses (lessons are offered as well). Tennis and racquetball are also available at the huge Sportsplex.
Additionally, meeting and event space is available; an upscale spa and salon is on-site; and 6 bars/nightclubs, 8 casual dining restaurants, and 3 fine dining restaurants are at the resort. Casino gambling (tables, slots, poker) is available 7x24 at two large casinos (Casino Blu is smoker-friendly). Highs takes bingo is also popular here. The large entertainment venue features Vegas-style performances as well as boxing and MMA events.
Our last night at The Villages, we went over to the Resort for dinner and just a little gambling (and no, we were not big winners, but it was fun nonetheless!). We drove over and parked in the large parking garage, but could have taken the shuttle from the campground.
As we were walking from the parking garage to the lobby, we saw this gorgeous Dale Chihuly glass sculpture, Tree of Life. It is 14' tall, weighs 5,725 pounds, and was commissioned by the Oneida Nation for Turning Stone. It is a museum piece and cost millions! Be sure to see it if you visit this resort!
We also saw this promotional display for upcoming entertainment at the resort. We realized that one of the performers for the Elvis show in August was Brandon Bennett, star of the Million Dollar Quartet musical. We have had the pleasure to see him perform and meet him on several occasions. He is a super talented musician, great performer, and has an uncanny likeness to the young Elvis. If we were going to be in town on that date, we would have definitely gone to the show! Don't miss it if you have the opportunity to see Brandon here (or anywhere!) He performs all over the country including Las Vegas (https://www.brandonbennettlive.com).
After exploring the casinos, we had a very nice dinner at the Upstate Tavern that overlooks the lobby. Cheers!
This place is a real gem. I am so glad we stayed here.
Website for Resort: www.turningstone.com