Today we visited Death Valley National Park and what an experience it was! It is the largest (3.4 million acres) national park south of Alaska. It is the the driest (less than 2" rainfall annually) and hottest (134 degrees recorded in July, 1913) spot with the lowest elevation (282' below sea level) on the continent. It was designated as a national monument in 1933 and then a national park in 1994.
We stopped to snap a few photos when we arrived at the Park.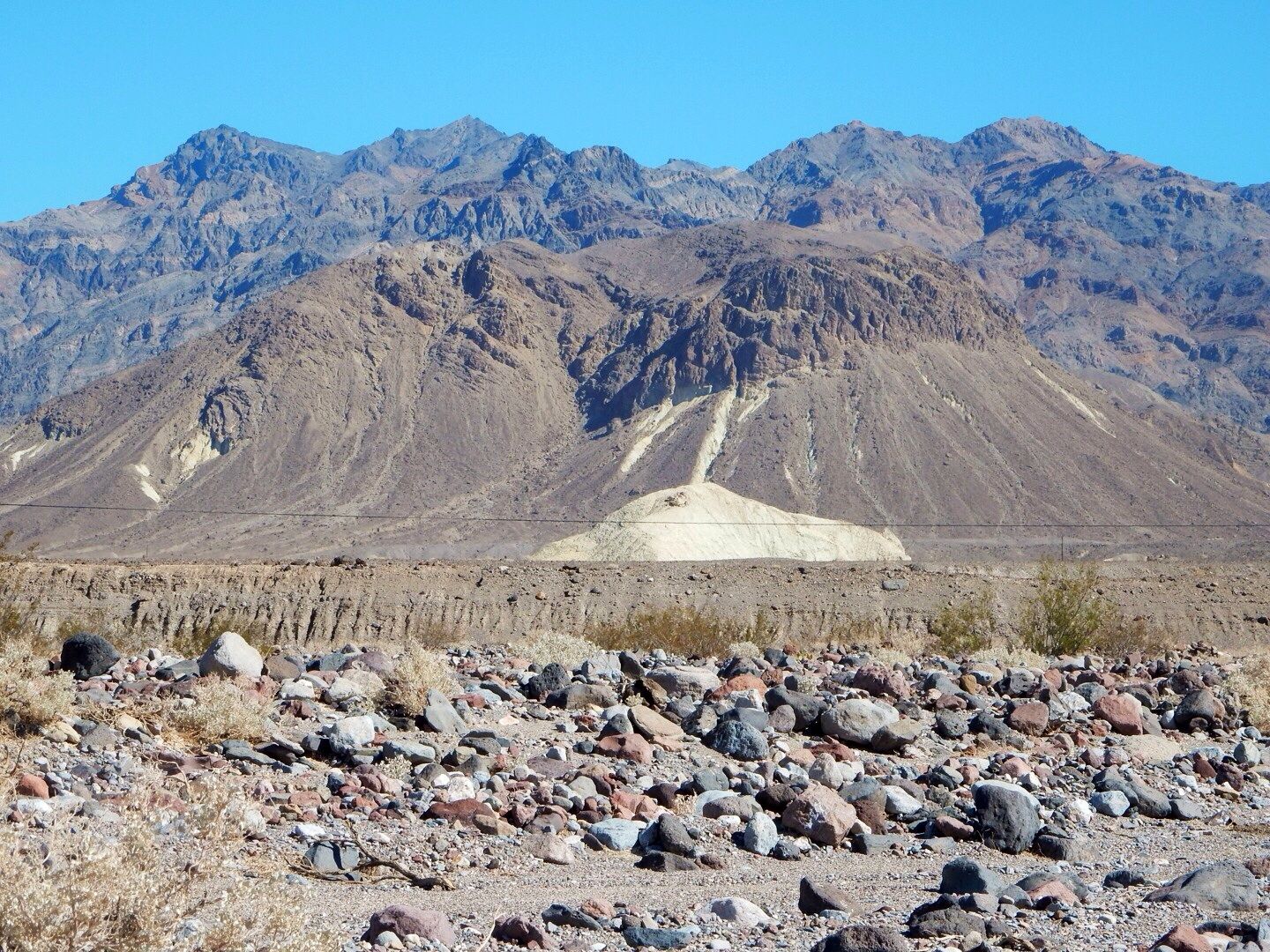 Sadie's first visit to the desert!
We headed to the Furnace Creek Visitor Center that is about 60 miles north west of Pahrump, NV (where we are staying). We spoke to a park ranger about the sights to be seen in the park obtaining maps and the park brochure. Of course, I got my Passport book stamped. About a million people visit this park each year.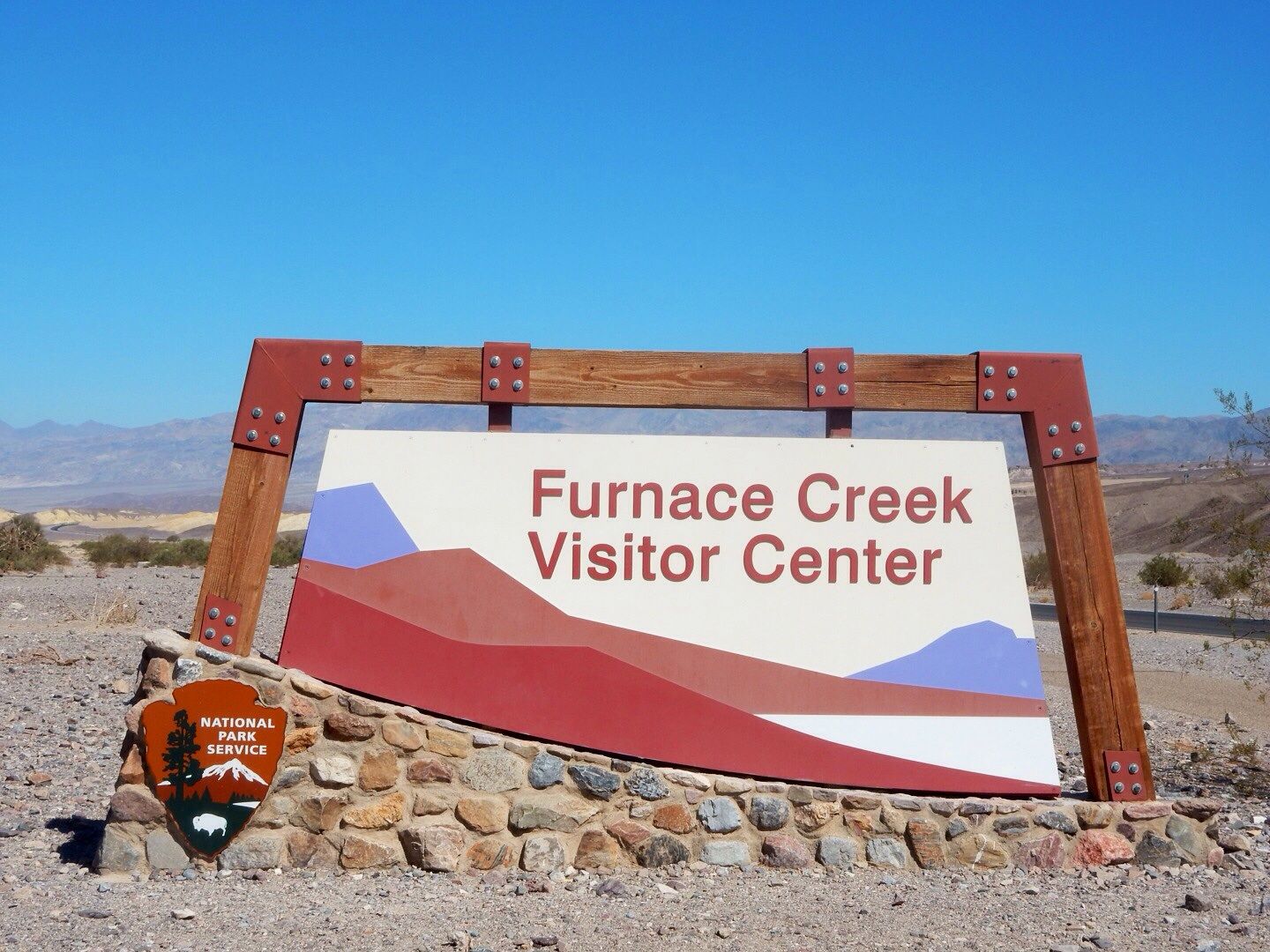 The landscape here is amazing! This park contains a sunken piece of the Earth's crust (a 200-square-mile salt pan) that is surrounded by mountains. Artifacts and rock art indicate a human presence 9,000 years ago.
Devil's Golf Course:
This is an area of rock salt that has been eroded by wind and rain ... leaving jagged pinnacles. The road to the overlook is unpaved, but only about 1/2 mile (and worth the drive!)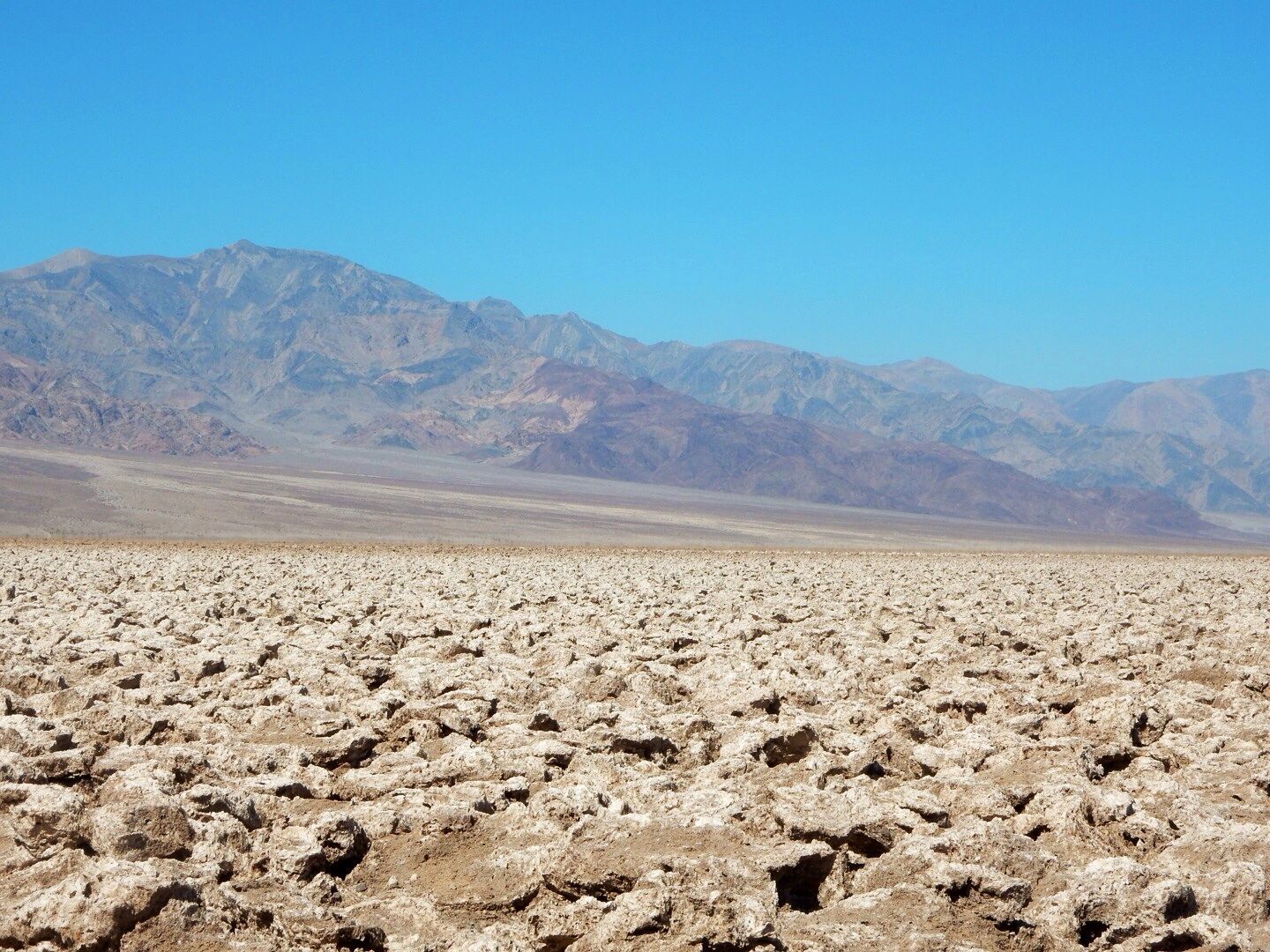 Close up.
The size of the field is immense!
From Devil's Golf Course we travelled south to Badwater Basin.
Badwater Basin
is the lowest point in North America at 282' below sea level.
The heat here is intense (and we visited in September).
Lots of folks ignored that advice!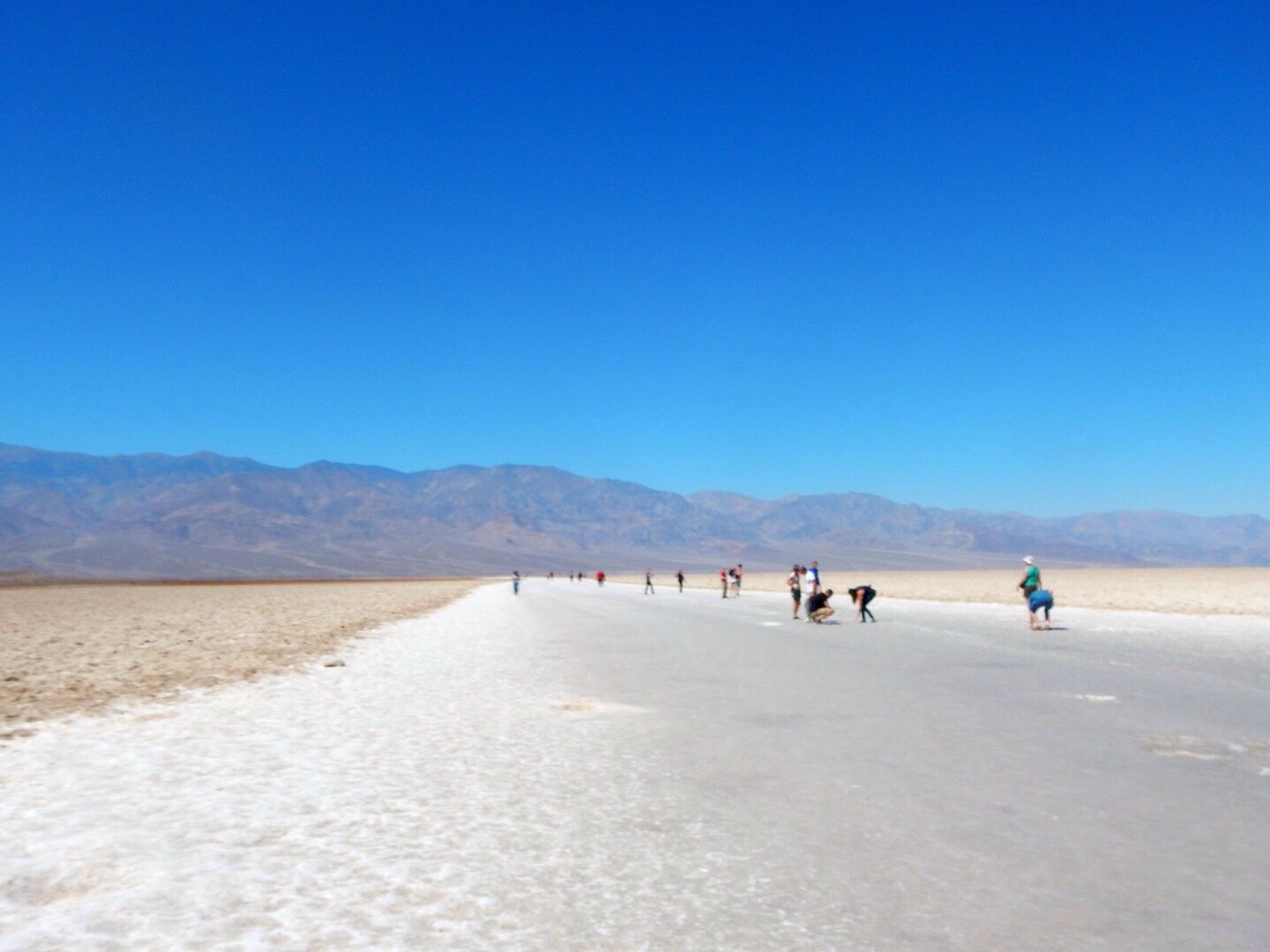 This is a huge area.
The Badwater Pool (on the right at the overlook to the Badwater Basin) is very salty (hence the name 'badwater"). It is also home to the unique "Badwater snail," a tiny mollusk that resides on the rim of the pool. The water here seeps up through the limestone and the pool varies in size depending on annual rainfall.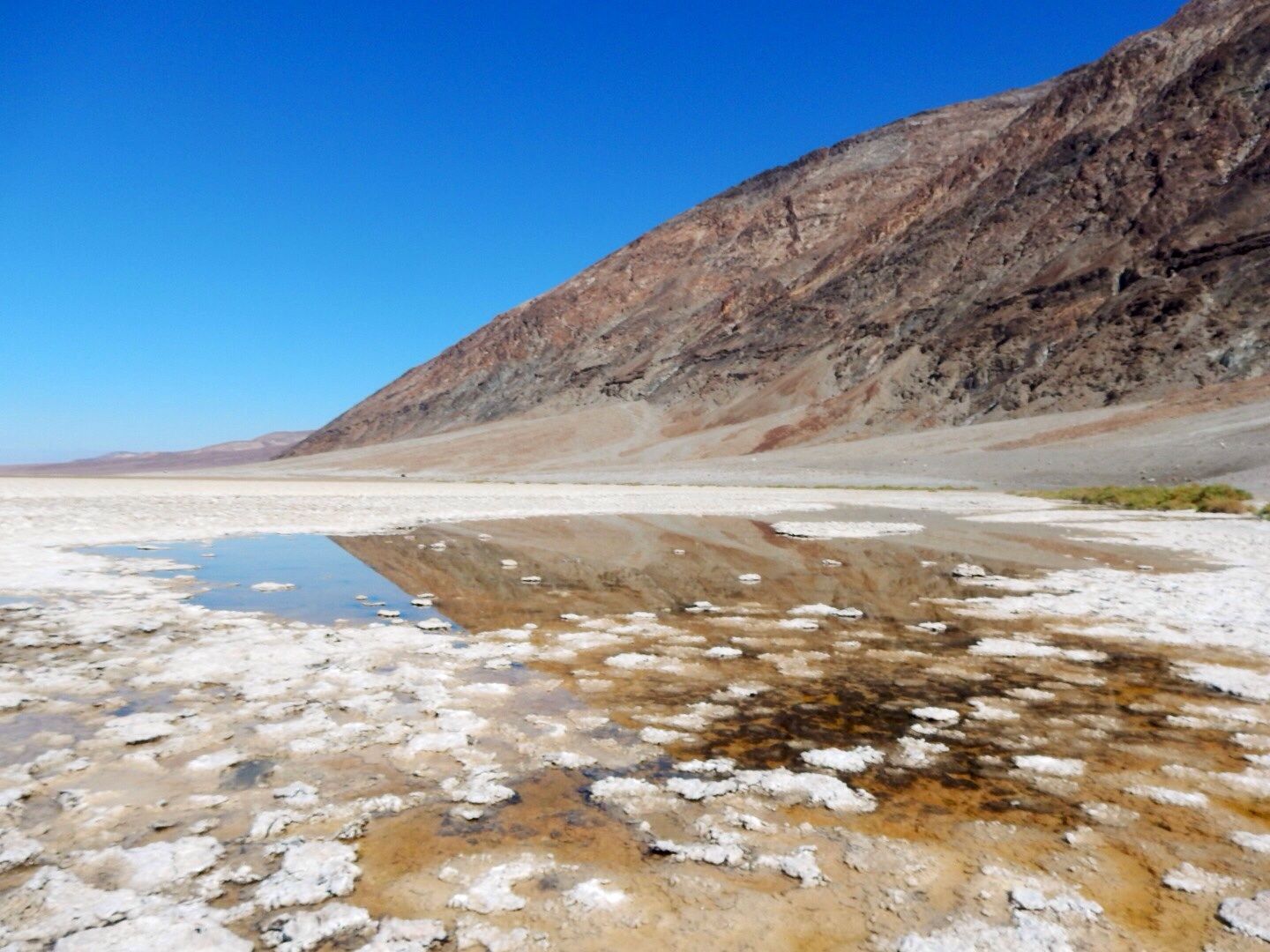 The landscape is so striking, it is difficult to capture in photos (or words, for that matter). It was 99 degrees today at Badwater Basin, so plan for the high temperatures if you visit! The park distributes information regarding safe practices in this weather (like drinking lots of water, wide-rimmed hat, etc.) They also publish the number of deaths (there have been 2 since April) in the park at the Visitor Center.
Admission to the Death Valley National Park is $20/vehicle for a 7-day pass. John's senior pass gets us in for free. (Sweet!)
Website:
www.nps.gov/deva