The
National
Quilt
Museum
, located near the downtown historic district of
Paducah
, KY, opened in
1991
. It was founded by
Meredith
and
Bill
Schroeder
to promote and honor the work of quilt makers the world over.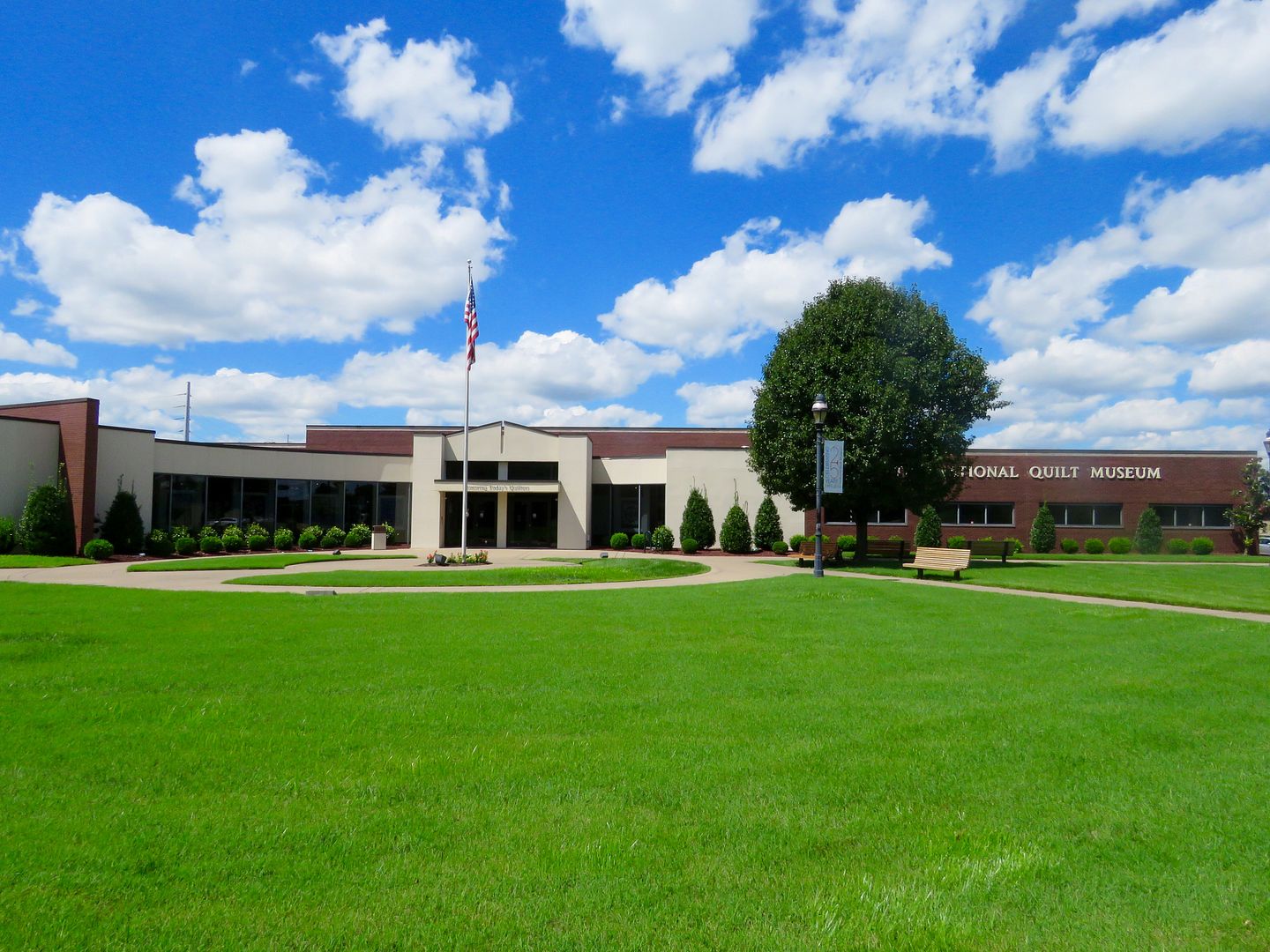 The museum showcases quilt and fiber art exhibits on a rotating basis. The museum owns a diverse selection of hand and machine quilted works of art. Additionally, there are rotating exhibits that are outlined in their event calendar available at their website.
The Yo Yo Club is a group of five quilters from the local area who gather weekly in the lobby of the museum to create quilts. We even got to meet one of them when we were there! There were two completed quilts that the group had made hanging in the lobby (that will be auctioned).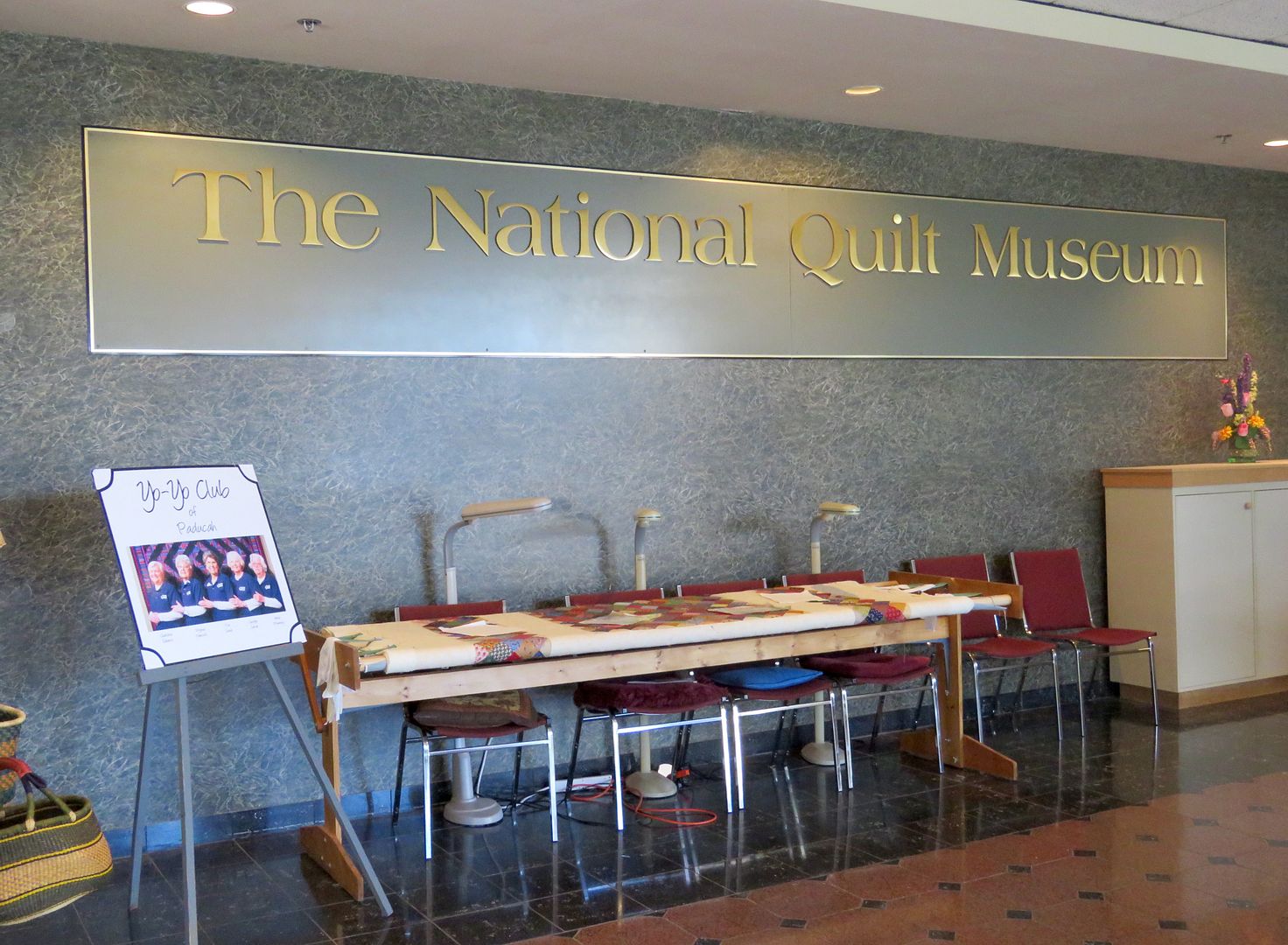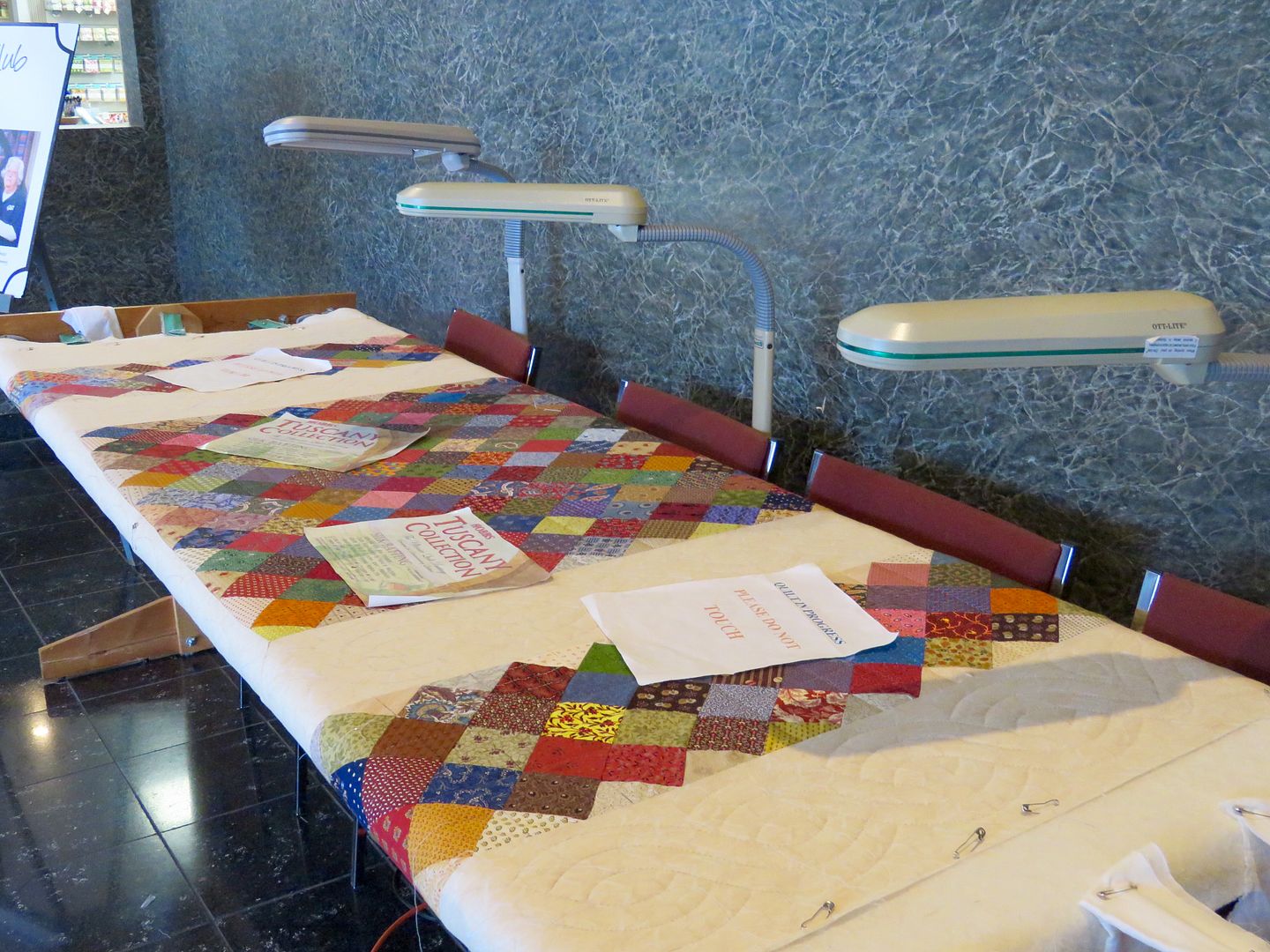 The museum is internationally recognized for its educational programs taught by master quilters for youth and adults (approximately 6,000 participants annually).
There are three galleries with rotating exhibits, but no photographs are permitted of the quilts themselves. Following are the exhibits we saw when we visited.
"Here and There" Works by the Manhattan Quilt Guild (August 12 to November 15). The Manhattan Quilters Guild was invited by the National Quilt Museum to share pieces that "examine their sense of space." As you would imagine, some of the quilts have images of tall buildings and related topics artistically presented.
"Art Quilts of the Midwest" (June 15, through October 11). These quilts are of a modern design "challenging traditional perceptions of quilting."
National Quilt Museum Main Gallery. Fifty to sixty of the museum's own collection of quilts (over 500) are displayed at any given time. Most of the quilts are award winners of regional and national contests. Some have been created by quilters from all over the world. You can visit www.quiltindex.org to view the National Quilt Museum's entire collection. Both John and I enjoyed this gallery the most. The diversity, creativity, and workmanship of each quilt is incredible.
"Oh WOW! Miniature Quilts" This exhibit is also part of the Museum's collection. Each quilt is no more than 24" square. These small quilts are as intricate and beautiful as the larger ones.
Photos are permitted in the lobby, gift shop, and of the stained glass windows. Each is a glass interpretation of an actual quilt. They were just beautiful and provide a hint of what some of the actual quilts look like.
The gift shop had an eclectic selection of gift items.
There is a huge selection of books on quilting (including one that features the Museum's impressive collection), quilt patterns, and quilting tools.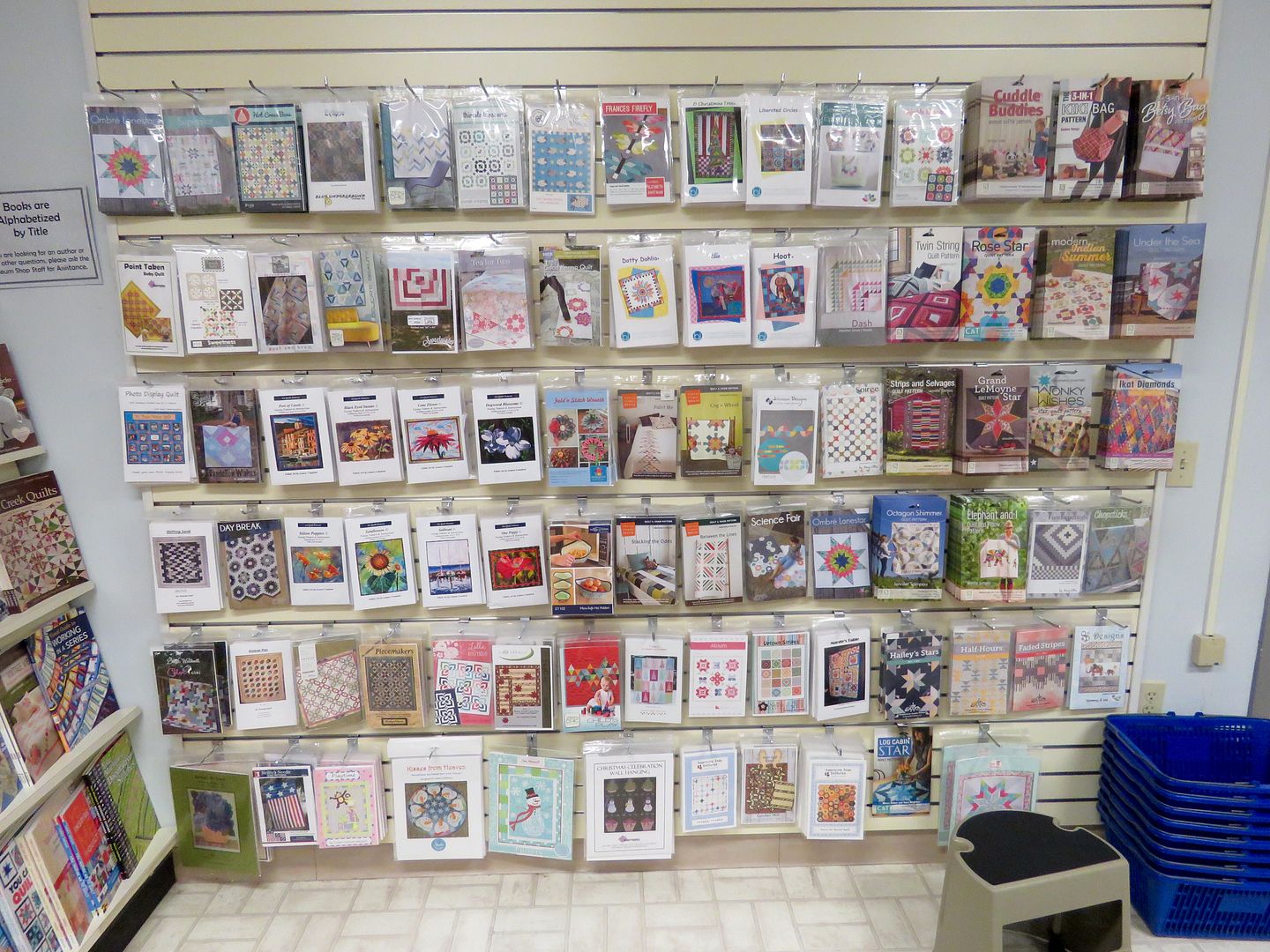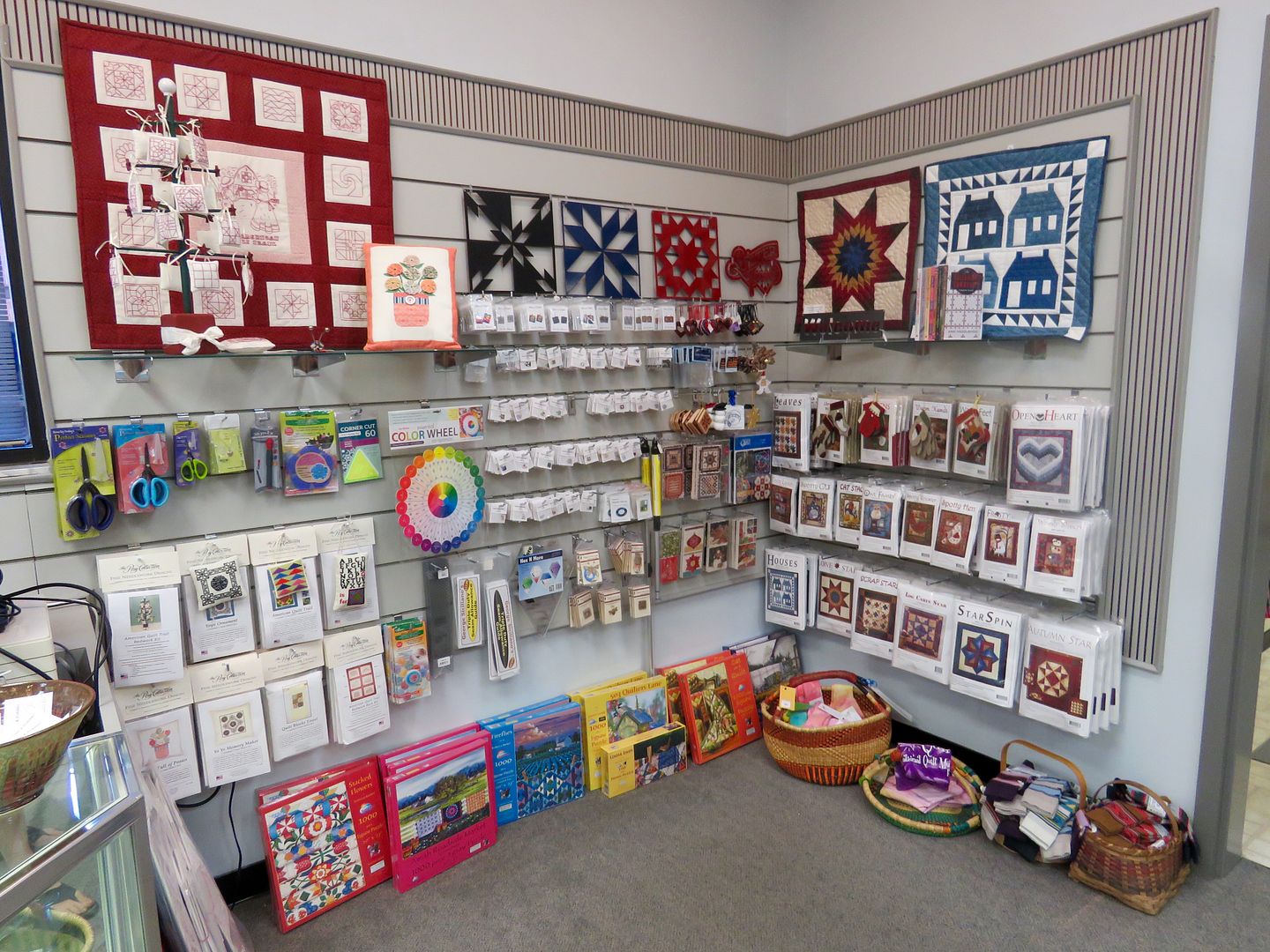 Visiting the National Quilt Museum is like visiting a fine art museum. Guided tours are available for those interested in one. Honestly, I absolutely loved this museum. Being from Pennsylvania, I always thought of quilts as beautiful covers for your bed. I have seen so many Amish and Pennsylvania Dutch designs (that I loved). But the quilts in this museum, need to be hung on a wall as they are artistic masterpieces! It is worth a visit to Paducah just to see this Museum.
For additional information about current exhibits, hours of operation, etc., check out their website. Admission is $11/adults and $10/seniors. We also had a coupon for $1 off that is readily available in the area, so we paid $18 for both.
As we were leaving the museum, we noticed this bronze sculpture along the sidewalk on the front lawn. "On the Trail of Discovery" by George Lundeen, honors Meriwether Lewis and William Clark and their encounter with many indigenous people during their travels. Native Americans helped the expedition reach the Pacific Ocean in the early 1800s. It can be found here because Clark purchased the land here (McCracken County) for $5 in 1827 when he founded Paducah.
The Floodwall Murals are within walking distance of the museum if you want to see both on the same day. Both are well worth interesting and very well done.