Rating: 3.5 on a scale of 5
Location
: This KOA is located right off of I-90, so it is easy to get anywhere in the Sioux Falls area. Falls Park (where you can see the Sioux Falls!) and the town are only about 5-6 miles away. Also, Pipestone National Monument (MN) was an easy 45 miles away, so this KOA campground was very convenient for us.
Lot size: We had a pull through site (D12) that was of adequate size for our motor coach, tow dolly, and car. However, we had no shade at all (although some sites do). Apparently some people that stay here complain about the noise of the interstate...this was not a problem for us.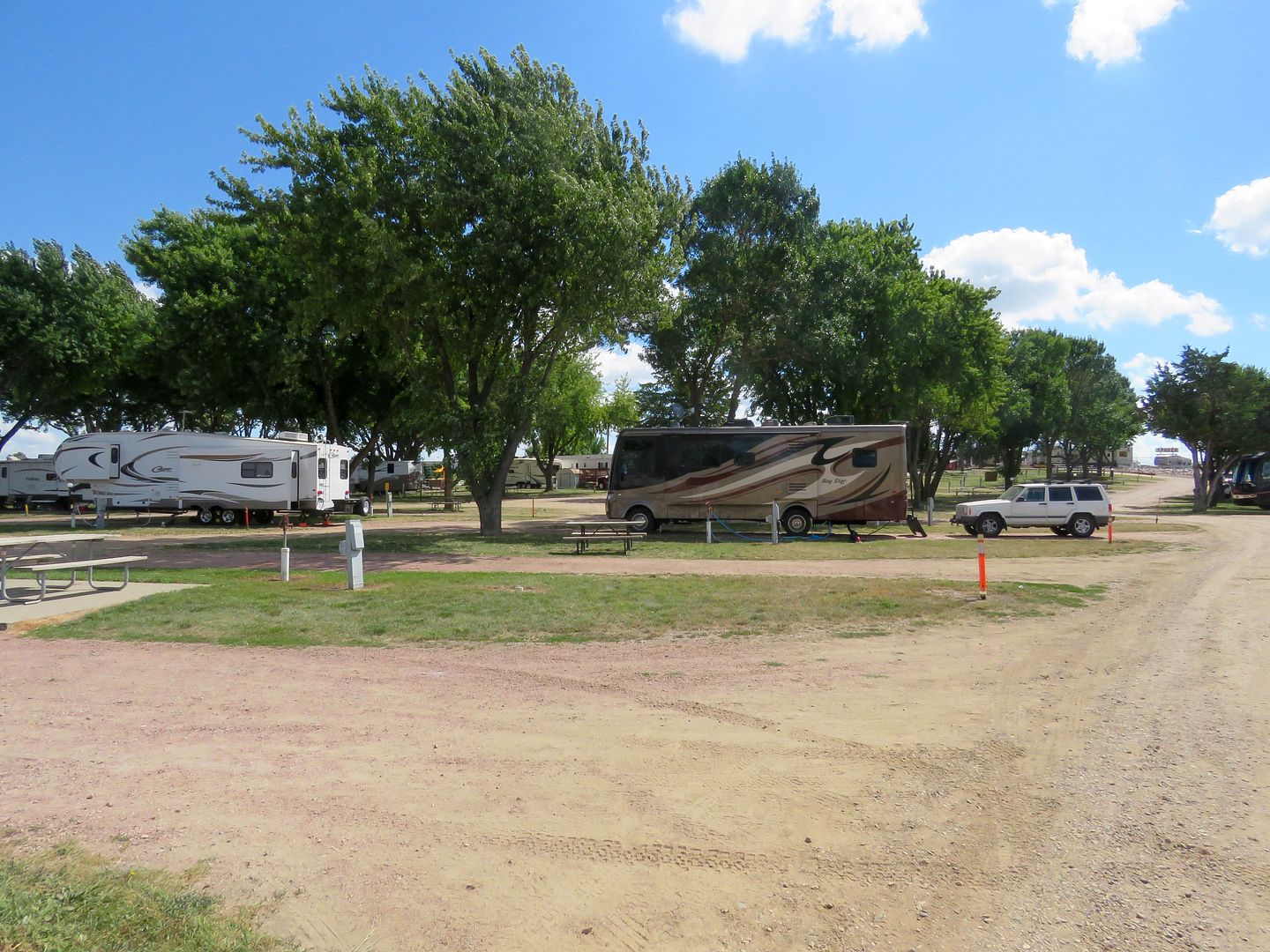 There are also cabins (of various sizes) for rent and tent sites are also available.
Amenities: We have found all of the KOAs to have really nice amenities. This one had cable TV, wifi, a very nice swimming pool, and a small mini-golf course. One free golf ticket is provided at check-in and additional ones games are $2. Putters, golf balls, and scorecards/pencils are provided at the office. They told us to feel free to play more rounds if we wanted (by not playing the 9th hole until we were done). The course is not that well maintained but it was still a lot of fun for us (really, I only say this because I won...highly unusual).
The laundry was one of the nicest we have seen at a campground in our travels. There was a rack of brochures and a lending library (take one/leave one). There is also a game room in the same building. We played a quick game of foosball while our laundry was drying, but John kicked my butt!
Cost: $238 w/KOA 10% discount
Management: One of the best things about the KOAs is that they are all very efficient with check in. A package is prepared in advance with all of the relevant information about the park and the local area. We were escorted to our site as well. There is a store with a small selection of groceries, camping supplies, and souvenirs as well as ice and firewood. Everyone here was very pleasant and helpful.
General Comments: I wouldn't say that this is the "prettiest" park, but everything was very nice. While we are always very happy our stays KOA campgrounds, I find them to be more expensive than I want . Nonetheless, we sometimes chose this option.