Here's a review of the restaurants where we ate while in St. Augustine area (February 26 - March 26). Rating key = Highly recommend; Recommend; Nothing special; Skip it.
The Conch House Marina Restaurant and Lounge
- The fish tacos with black beans and rice were fabulous! Very pleasantly surprised at the food quality. Located on the Intracoastal Waterway, there are great views of boats cruising by or docking at the marina. We had great service.
Cost: $$. Rating: Recommend.
The World Famous Oasis Deck and Restaurant
- This is basically a biker bar (not that we have anything against bikers, mind you). If you go, sit on the second floor for nice view of the surrounding area. John had a burger and I had a seafood wrap. Sevice was only so-so.
Cost: $$. Rating: Nothing special.
Mango Mangos -
We went to this restaurant on a Saturday night and it was quite crowded (although I subsequently learned that is frequently that way). Great "island" atmosphere, helpful and sweet wait staff, and excellent seafood. We waited at the bar and then moved to a table when one became available. Close quarters, but ambiance made it fun.
Cost: $$. Rating: Highly recommend.
The Purple Onion
- We went here to celebrate my birthday. An unassuming local in a "strip mall," the food was surprisingly good. John had prime rib (that he only rates as average), but I had salmon and it was delicious. Also, we both ordered creme brulee for dessert that was fabulous! Service was excellent.
Cost: $$$. Rating: Recommend.
Florida Cracker Cafe
- We grabbed a quick bite to eat in the old town area of St. Augustine after visiting the Pirate & Treasure Museum (it was within walking distance). The place was just average.
Cost: $$. Rating: Nothing special.
180 Vilano Grill
- This is a very nice, small restaurant in Vilano Beach that we loved! Both food and service were excellent. Dog-friendly patio if you want to eat outside.
Cost: $$. Rating: Highly recommend.
The Floridian
- Amanda and Justine purchased a gift certificate as a birthday present to this restaurant. Famous for fresh and local cuisine, we both thoroughly enjoyed our meals.
John had the Bourbon and Brown Sugar Park Chop (Juniper brined CartWheel Rank Pork Chop, seared and served over aromatic rice and pulled pork "Southern Caviar" made up of blackeyed peas tossed with tri-colored bell peppers, brussel sprouts and sweet onions. Topped with apples and brown butter bourbon glaze, and served with buttermilk cornbread).
I had the Seafood Zucchini Linguine (St. Augustine clams and shrimp steamed in white wine and garlic butter, served with our zucchini noodle "pasta" tossed with bell peppers, sweet onions, and garlic topped with tomato salsa; served with baguette).
Cost: $$. Rating: Highly recommend.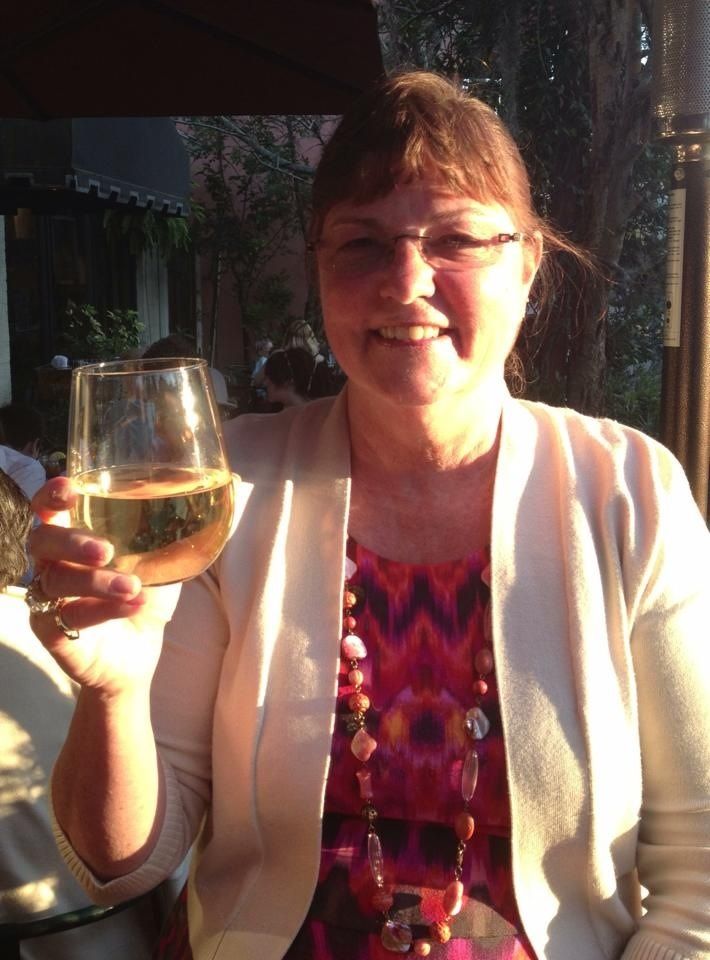 Iron Horse Saloon (Ormond Beach) - Not a destination for good food, but surely a place to check out if you are curious about the biker scene around Daytona. We were here during Bike Week at Daytona. We had a couple of drinks and bought some good barbeque from a vendor there for the event.
Cost: $. Rating: if you're goior food, skip it. If you're going for the experience, highly recommend.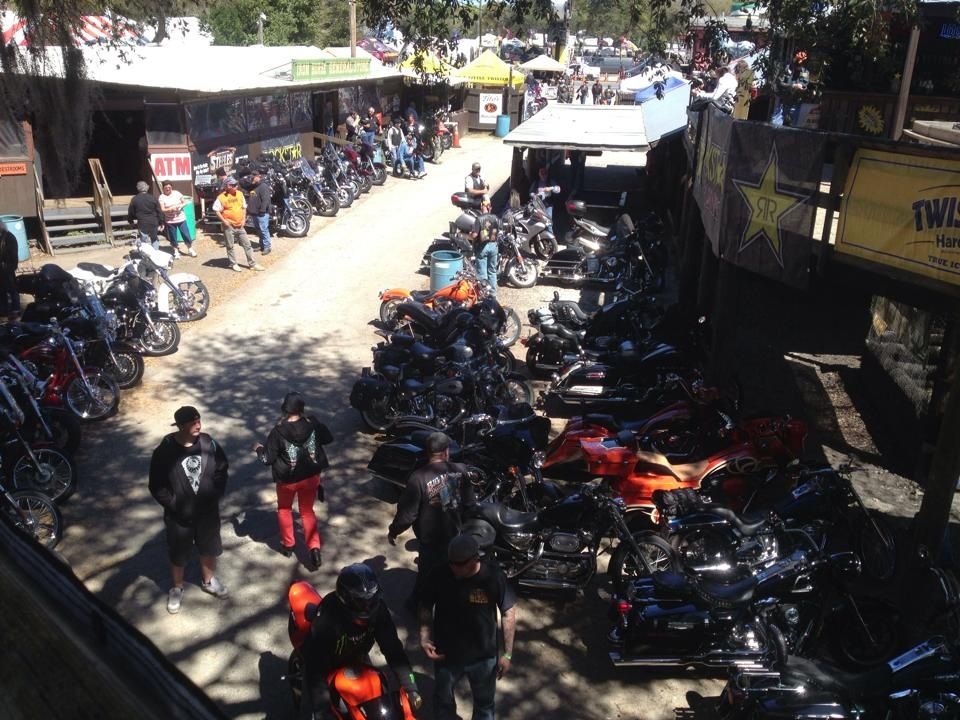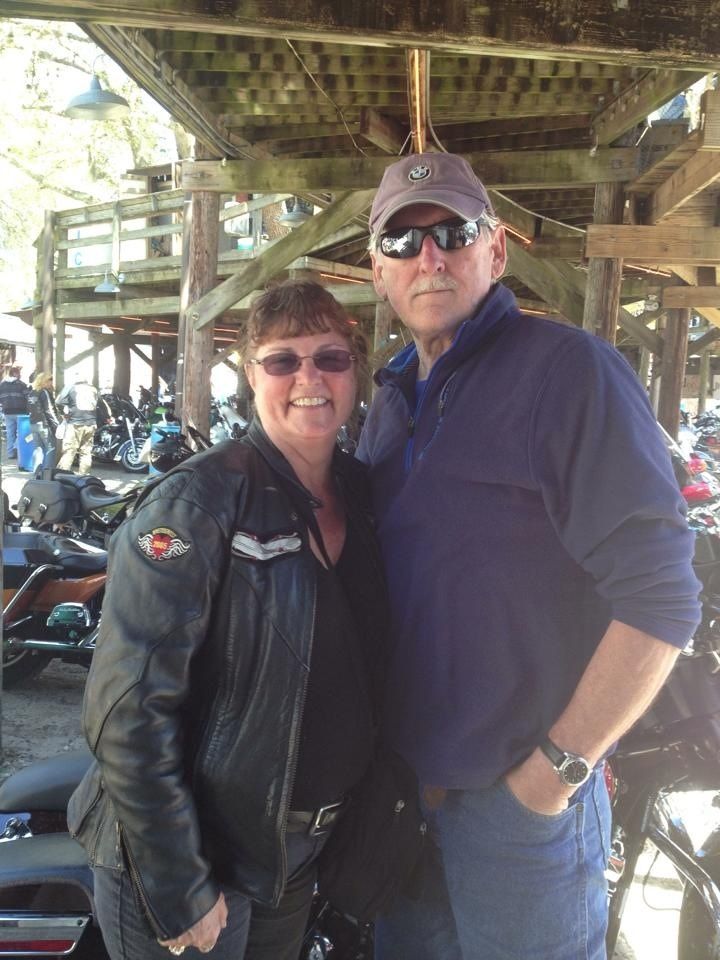 Flagler Beachfront Winery - We stopped here on a whim after playing frisbee with Sadie on Flagler Beach. This is a lovely location across the street from the beach. It was a beautiful afternoon and a thoroughly pleasant experience. The savignon blanc I had was so good that we bought a bottle to take home. We just had a snack (cheese, fruit, baguette) but it was perfect. Really great service.
Cost: $$. Rating: Highly recommend.
Salt Water Cowboys - This restaurant was very close to cean Grove RV Park (where we stayed) and was advertised as a "southern fish camp" type restaurant. We were not impressed with the food and we had poor service. Nice ambiance with view of marsh lands near the Intracoastal Waterway.
Cost: $$. Rating: Nothing special.
Pizzalley - We stopped in this restaurant because it had a nice patio that was dog friendly. I had Italian Wedding soup and salad and John ordered pizza. Service was average. The food was good but we both felt sick the rest of the day.
Cost: $$. Rating: Skip it.
Seafood Festival - We checked out the local annual Seafood Festival in St. Augustine. John had fired shrimp and I had seafood paella. The lemonade was $5 for one cup! The shrimp was average but the paella was excellent.
Cost: $$$. Rating: Nothing special.
O'Steens - This place is so popular that it almost always has a line. It is a small restaurant that doesn't look like anything special. However, their fried shrimp is really fabulous (and this is what they are primarily known for). With an hour wait at lunchtime on a Tuesday, we ordered our food to go. It was excellent. It's lucky we did not find this place sooner or we would have spent a lot more time and money here.
Cost: $$ Rating: Highly recommend.