Here's a review of restaurants where we ate in the Cedar Key area March 26 - April 26. Rating key: Highly recommend; Recommend; Nothing special; Skip it.
The Pickled Pelican and Eatery
- The day we arrived in the Cedar Key, we drove into town to check out the small town and view of the gulf. We had a drink on the waterfront deck that was dog-friendly. How nice. Nice ambiance and sweet server. We liked it. Below is a view from the deck. I am sure we will be back for a meal while we are here.
Cost: $$. Rating: Recommend.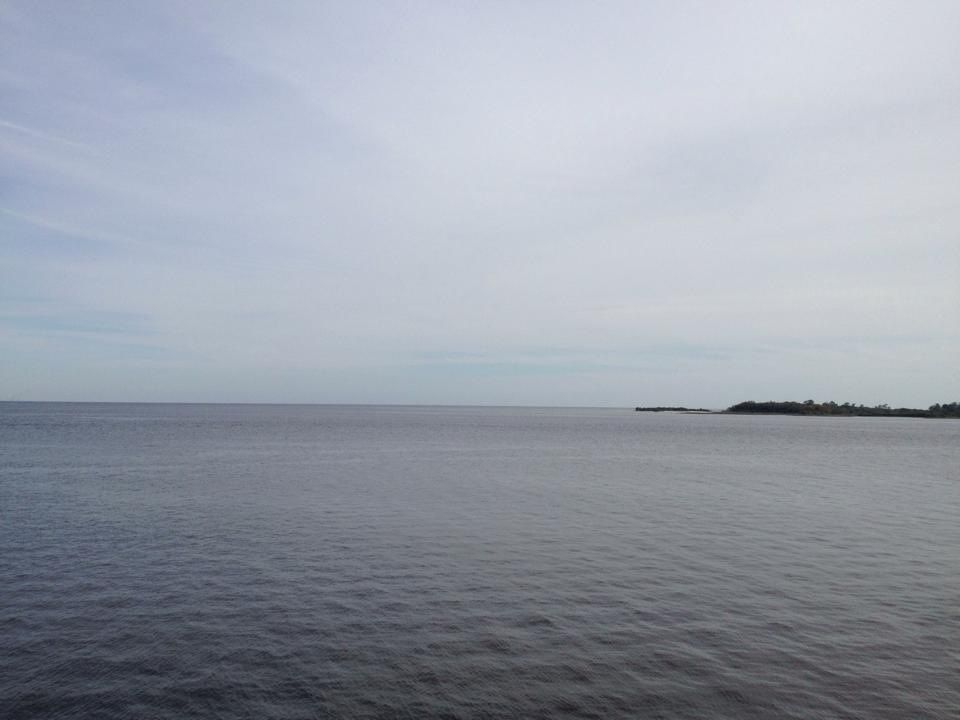 Robinson's Seafood Restaurant
- This place is owned and operated by a fourth generation local fisherman. They also have a seafood market and offer fishing charters. We ate dinner here our first night in Cedar Key and it was a great choice! They offer a Wednesday night special of buy one dinner and get the second half off (you know I love a bargain). John had the fried shrimp and I had (local) steamed clams as well as their clam chowder. I think they served about 3 dozen clams! We will go back to this place for sure. No alcohol served. Casual.
Cost: $$. Rating: Highly recommend if you're looking for fresh food; Skip it if you're looking for ambiance.
Steamers - Clam Bar and Grill
- Small deck (but we got a seat out there) provided great views of the Gulf. I had a really delicious dinner called "Low Country Boil" that was a pot of steamed clams, mussels, shrimp, crab legs, sausage, corn on the cob, and red potatoes. I didn't care for the sausage (spicy hot) but Sadie really enjoyed it. John had surf and turf (sirloin steak and shrimp) that was also very good. Yummy margaritas! They were quite crowded (even though it was a Monday night) and as a result the service was not very good.
Cost: $$$. Rating: Recommend.
Tony's Seafood Restaurant
- This restaurant is famous for it's wonderful clam chowder, my favorite soup, so it was on our list to visit while staying in Cedar Key. This tasty chowder won the World Championship clam chowder award in 2009, 2010, and 2011. It is canned and sold in grocery stores (at least in FL). It can be ordered online at www.tonyschowder.com.
We stopped in for a late lunch. I had a bowl of the clam chowder (divine!) and a nice grilled cheese. And what do you think John ordered at this great seafood place? You guessed it, a cheeseburger and fries! He is not as much a fan of seafood as I am!
Cost: $$; Rating: Highly recommend.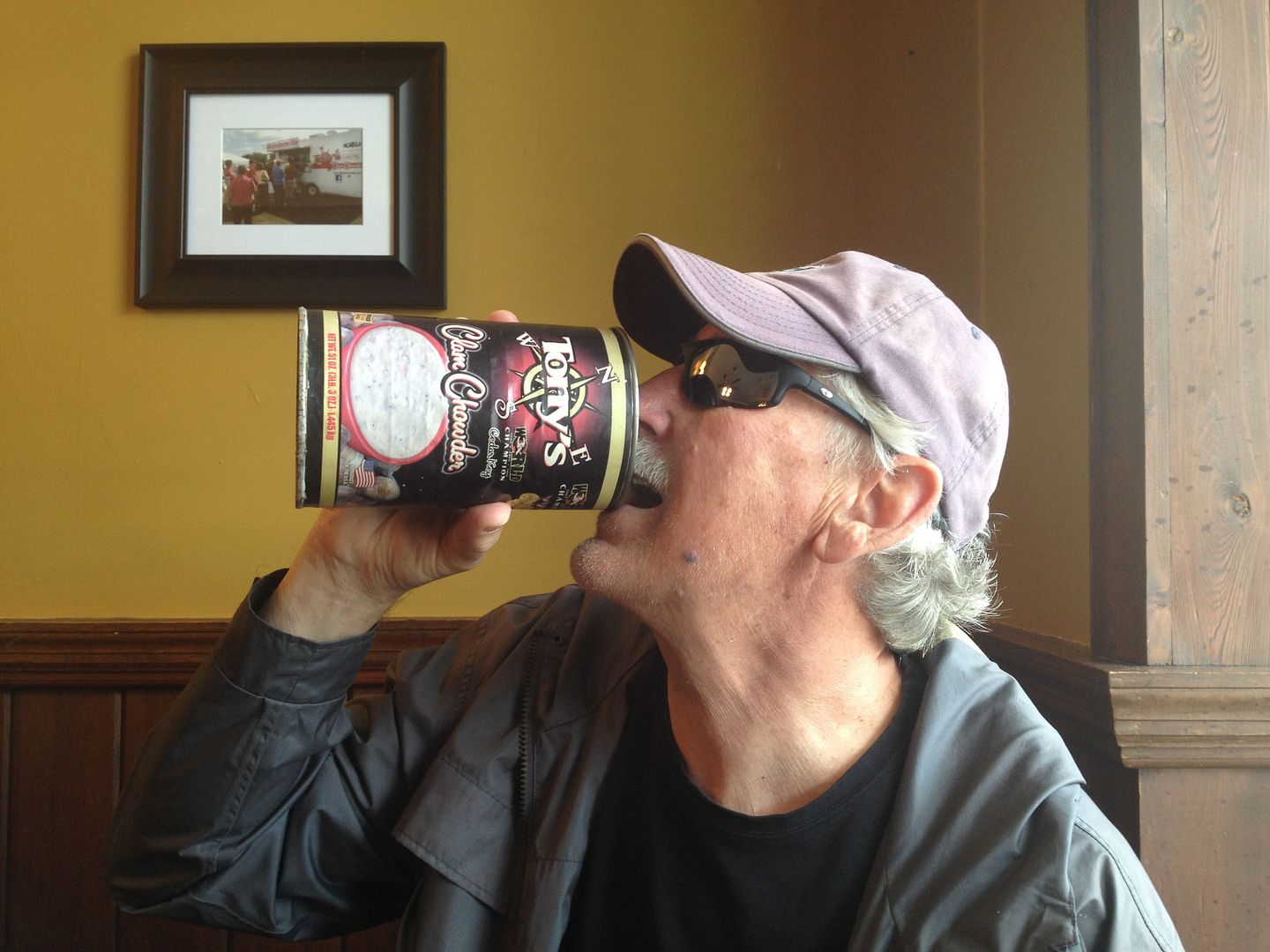 Treasure Camp on the Suwannee - Loved this small, out-of-the-way, casual restaurant located on the river. They are open for breakfast food was very good (shrimp and steak for John; clams, shrimp, and flounder for me).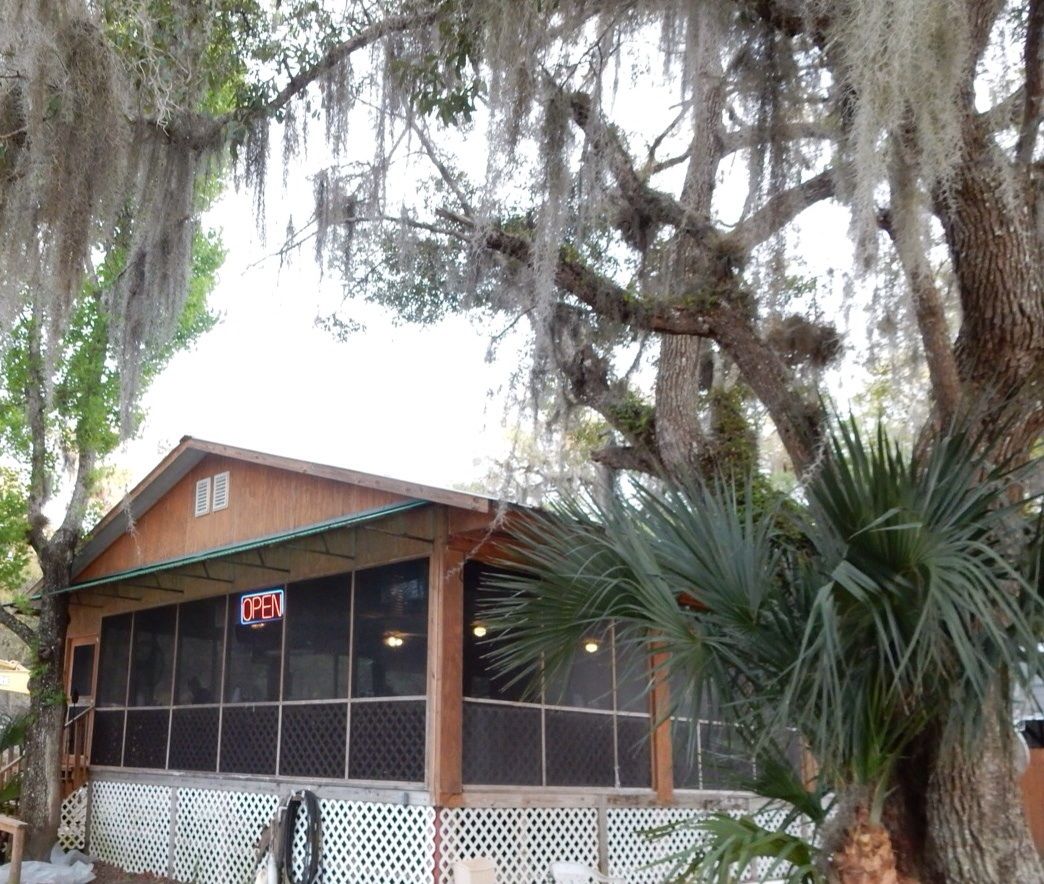 Our server was an adorable, hard-working, 13-year-old daughter of the owner. We had excellent service from both! A first for us, we were served deviled eggs in lieu of bread, as an appetizer. They were delicious!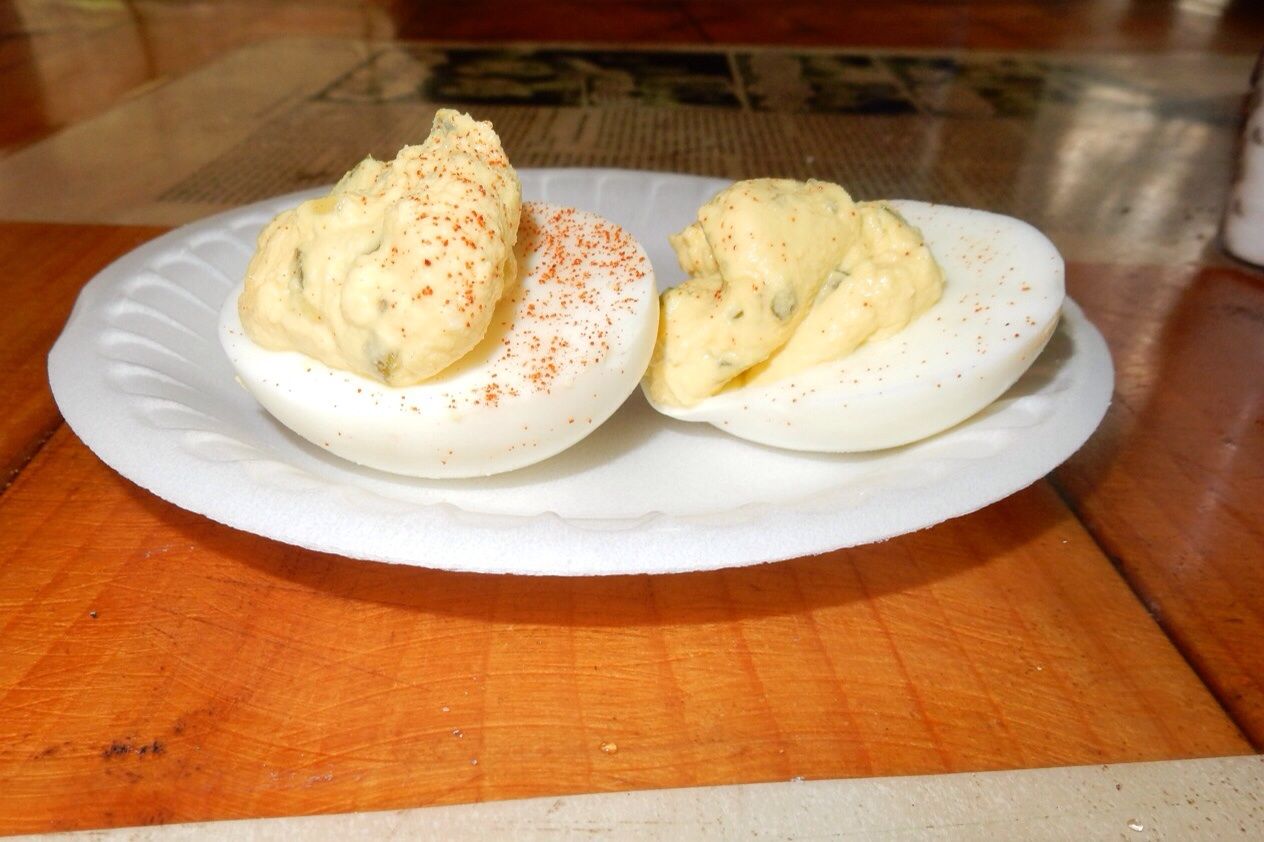 The views from the banks of the Suwannee were just lovely.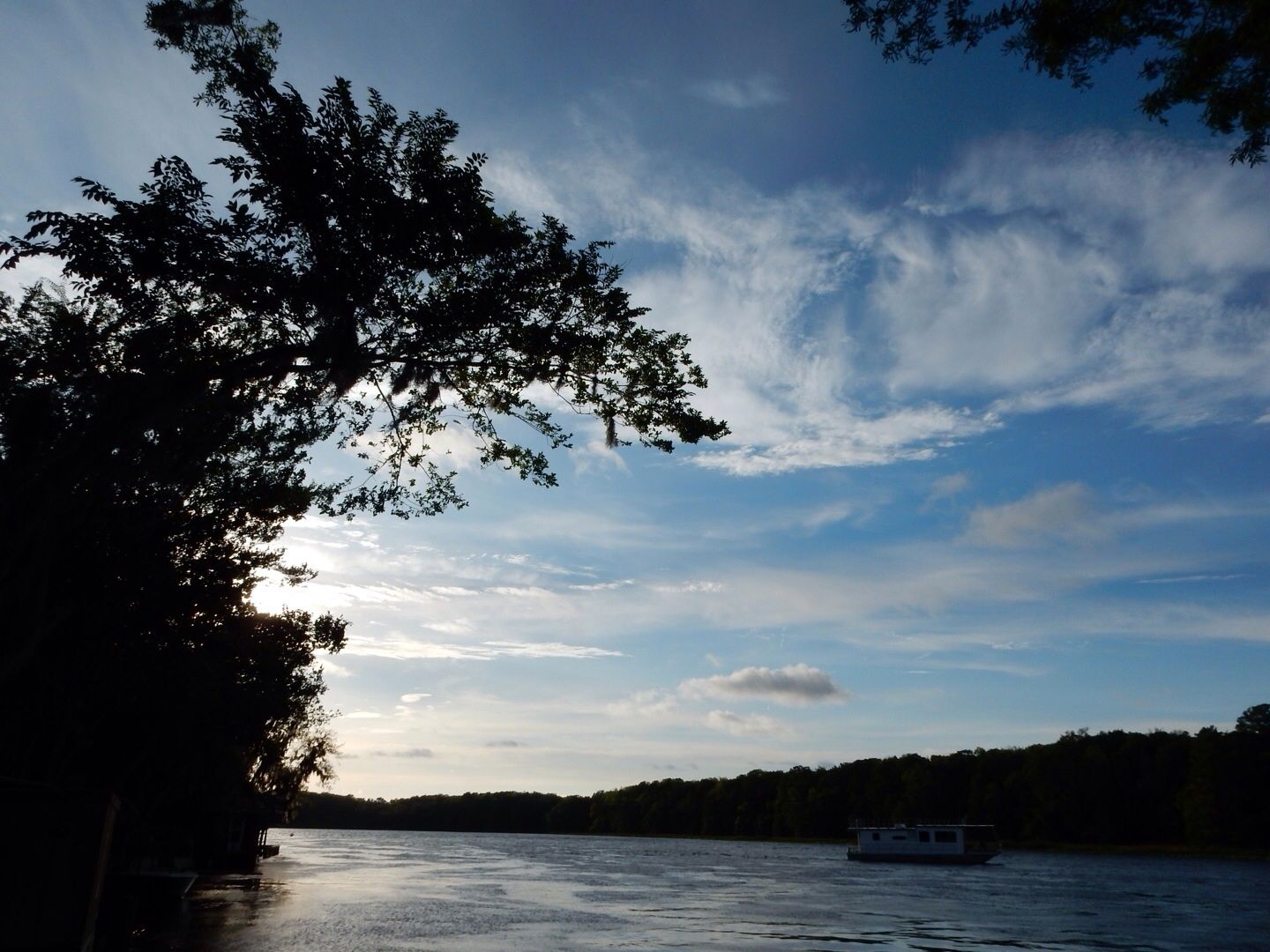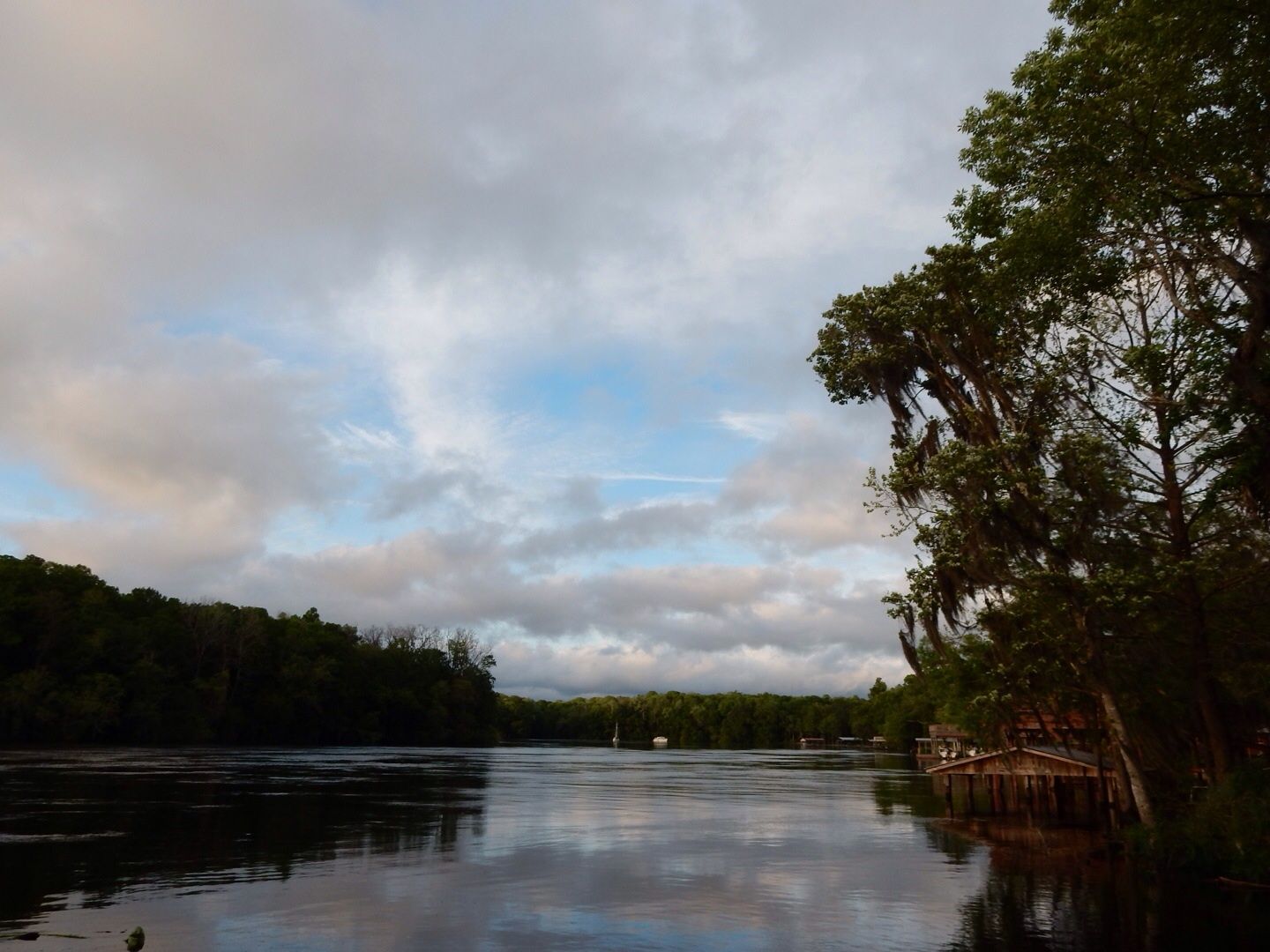 Cost: $. Rating: Recommend.