We were so very impressed with the amazing exhibits at this museum devoted to the life and times of Abraham Lincoln.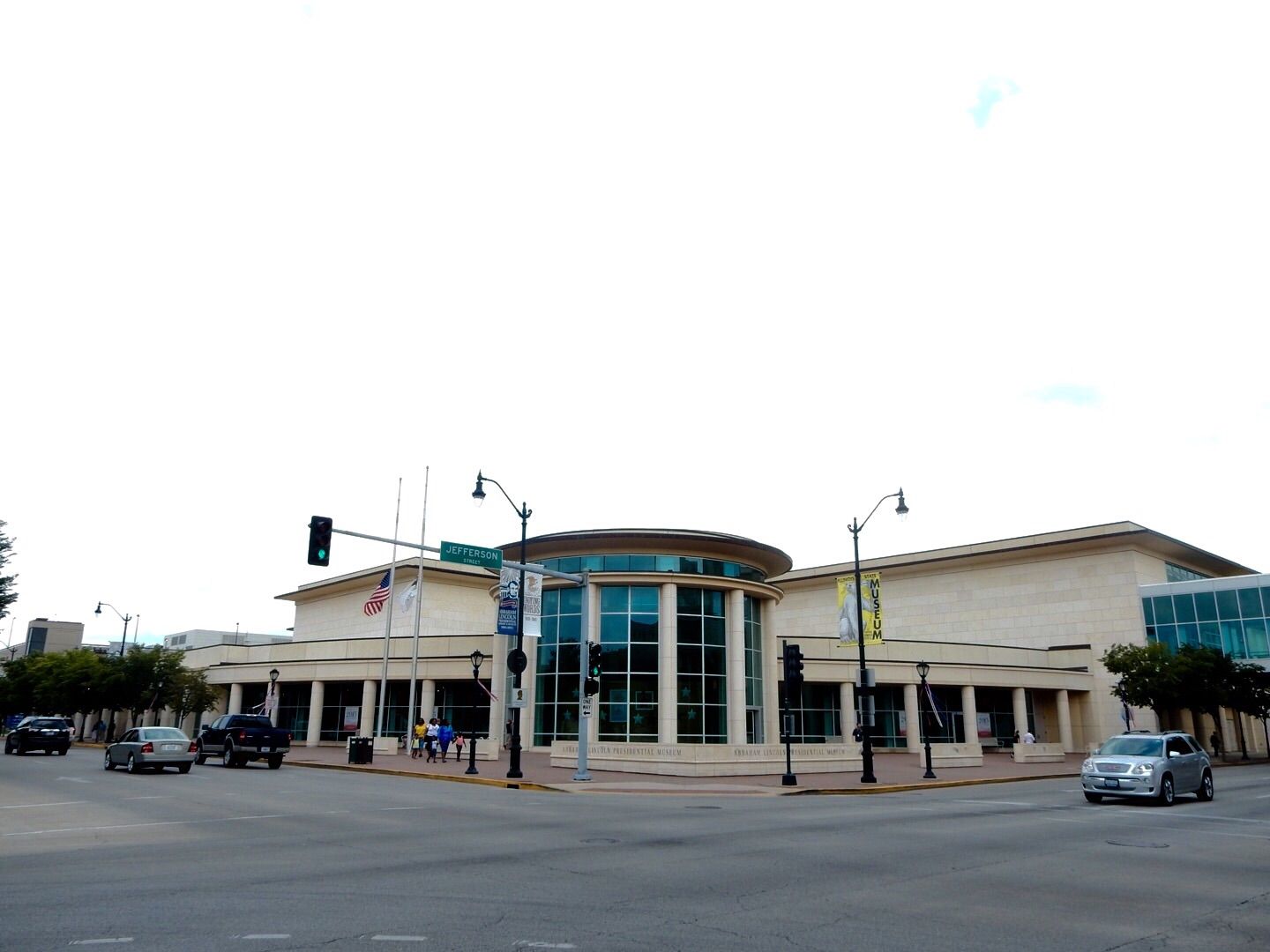 The Museum is organized as a chronological journey of his life with exhibits corresponding to key events during his life. While I felt like I already knew a lot about Lincoln, this museum made it all fascinating providing the opportunity to learn more about this individual who helped shape our nation. There is a central atrium from which all of the other exhibits can be accessed. These life-size models of the First Family are the first sight upon entering that area.
Born in Kentucky in 1809; attended one year in a frontier school in 1815; family moved to Little Pigeon Creek, IN, in 1816. This is an exhibit of the one-room log cabin where he and his family lived there.
In the 1930s he made several trips to New Orleans where he witnessed a slave auction. His parents had always been anti-slavery, but his experiences in New Orleans hardened his hatred for slavery.
In 1831, Lincoln moved to New Salem, IL, where we worked at several profession including a shopkeeper until 1937 when he moved to Springfield, IL. It was during these years that he studied law and became a self-taught lawyer.
Lincoln met and married Mary Todd in Springfield and rose to prominence as a lawyer and politician. This display represents the time the family lived in Springfield.
Lincoln was notoriously lenient with his sons and his two youngest ones (Willie and Tad) were, reportedly, quite mischievous. Stories were told of them "invading" his law office and making a total mess while Lincoln calmly sat by and prepared his cases.
There were presidential candidates in the 1960 election. Lincoln won 39% of the popular vote. The map belows illustrates the states he carried (blue).
The First Lady fought for social acceptance in Washington society where she was widely criticized for her lack of social graces. I loved this exhibit one of her dresses and those of her social rivals.
Dress of Adele Stephens (the grand niece of Dolley Madison and wife of Stephen Douglas) and dress of Mary Ellen McClellan (wife of General George McClellan).
Dress of Harriet Lane (President Buchanan's niece and hostess at the White House prior to the Lincolns) and dress of Kate Chase (daughter of Lincoln's Treasury Secretary, Salmon P. Chase).
A sampling of the display of political cartoons of the during Lincoln's campaign and presidency.
The tragic death of their son, Willie, at age 11 of typhoid fever in 1862, left both the President and First Lady devastated and heartbroken. Mary never entered his room again.
The War Gallery is an extensive exhibit of the Civil War. The murals below commemorate the 54th Massachusetts Regiment attacking Fort Wagner, SC, in July 1863; and the 3-day, deadly Battle of Gettysburg with 52,000 casualties the same month.
Don't miss this interesting interactive map that runs for 4 minutes showing the changing battle lines of the North and South as well as major battles with the casualty count increasing correspondingly throughout the Civil War. An amazing snapshot of the 4 year war.
And the tragic assassination at the Ford Theatre in Washington, DC.
What a fantastic museum! Next we went to the Lincoln Presidential Library.
Used primarily for research, below are photos of the interior. There is a scale model of the funeral train that brought Lincoln's remains to Springfield, IL, from Washington at the far end of this space. Stained glass window displayed on the second floor.
And finally, this small bronze sculpture representing Mrs. Lincoln on her deathbed being cared for by the Healing Sisters of Germany.
Union Square Park is located in front of the Station.
Be prepared to spend several hours here. We also had a bite to eat at the Cafe in the Presidential Museum (a Subway). We also spent some time perusing the Museum Gift Shop where there is a large selection of Lincoln-themed items.