After the Architectural Tour Cruise, we our sightseeing of the area with a walking tour, led by Amanda and Justine. After learning about the Tribune Tower on the tour, we wanted to take a closer look at this historic building.
In 1922, the Chicago Tribune, held an international competition for the building design. There was a total of $100,000 in prize money offered ($50,000 for the design selected). After reviewing the 260 entries, the neo-Gothic design by John Mead Howells and Raymond Hood of New York, was selected. The building was completed in 1925.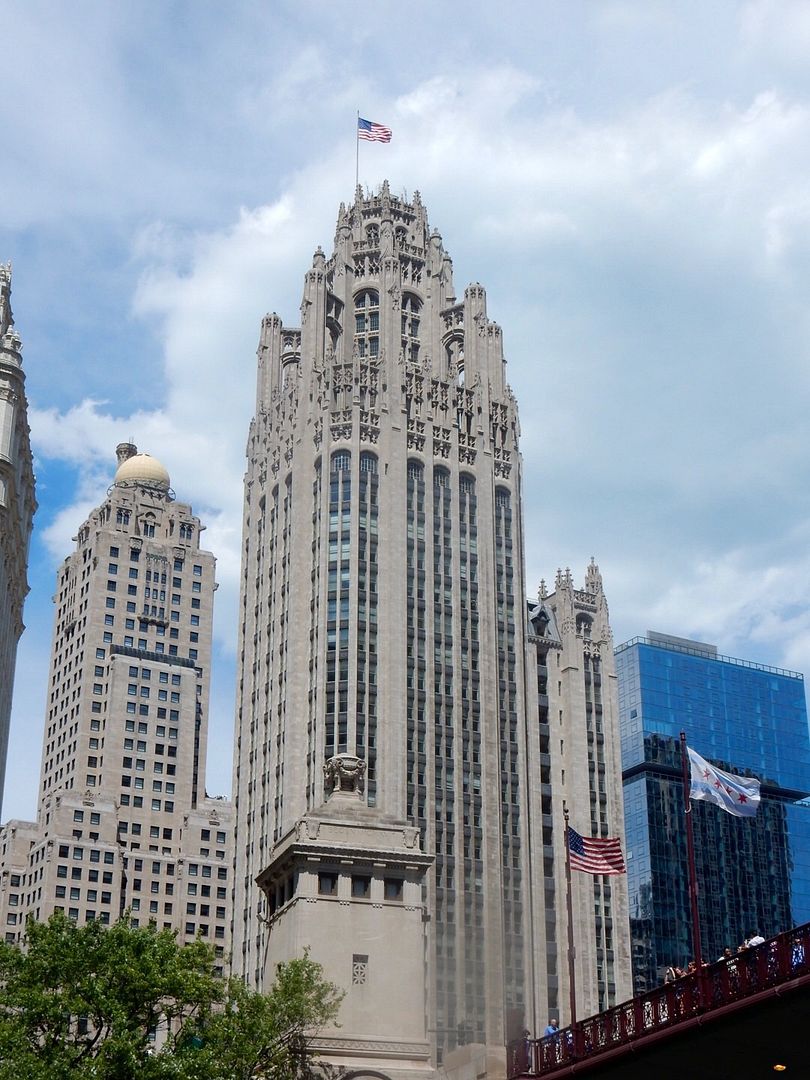 Located at
435 North Michigan Avenue
, the building is home to the Chicago Tribune, Tribune Media, Tribune Publishing, and WGN Radio. Also CNN's Chicago Bureau is located here as well.
The statue of Nathan Hale is found near the entrance to the building. He was a Revolutionary War hero who was hanged as a spy (1776) at age 21 when he was captured by the British on a mission for George Washington. He is famously quoted as saying, "I regret that I have but one life to lose for my country," prior to his execution.
The beautiful, ornate lobby of the building is open to the public.
Colonel McCormack (of the Chicago Tribune) asked correspondents to bring back rocks and bricks from a wide array of historically important sites worldwide. While this is strictly forbidden today, many pieces are incorporated into the first floor of the building. The most recent addition is a piece of one of the Twin Towers destroyed
on 9/11
. There are 149 buildings represented here.
Here are some of the artifacts from US locations.
And here are some from outside the US.
It was fun to walk around the building looking for them. If you are in the Loop area of Chicago, you might enjoy checking it out! The Howell's and Hood Restaurant is also on th first floor with both indoor and outdoor dining.