This shrine is a majestic tribute to Will Rogers, a very close personal friend of Spencer and Julie Penrose. Chimes ring out over the plains on the quarter hour from 8 am to 9 pm daily. It is said they can be heard for five miles!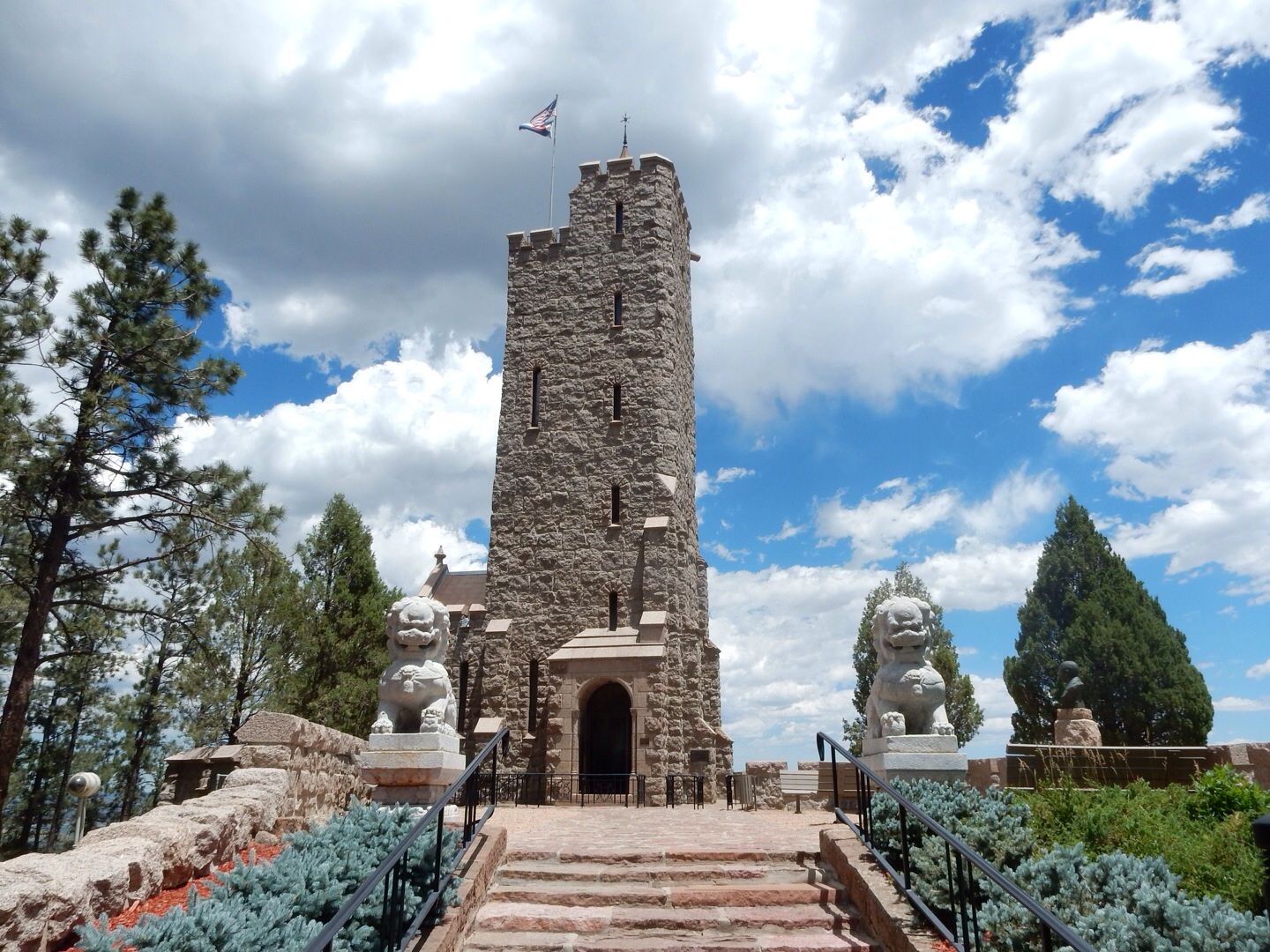 Fu Lion (2 at entrance)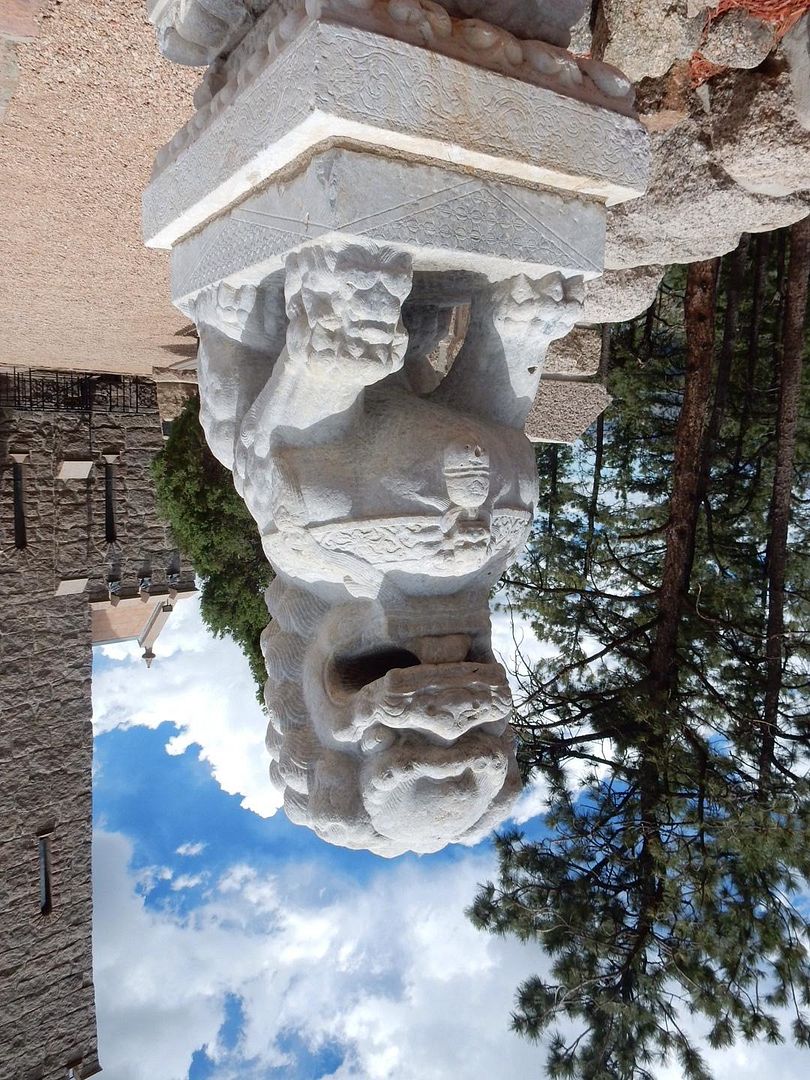 The tower was originally designed as the burial place for Spencer and Julie Penrose (and their cremated remains are buried here along with those of two close personal friends). Situated high on Cheyenne Mountain above the Cheyenne Mountain Zoo (founded by Spencer Penrose in 1926 to house his exotic animals), access to the shrine is via a winding mountain road with hairpin turns that passes through the zoo. Below is a bust of Penrose located near the entrance to the tower.
Views of Colorado Springs from the base of the shrine are fabulous.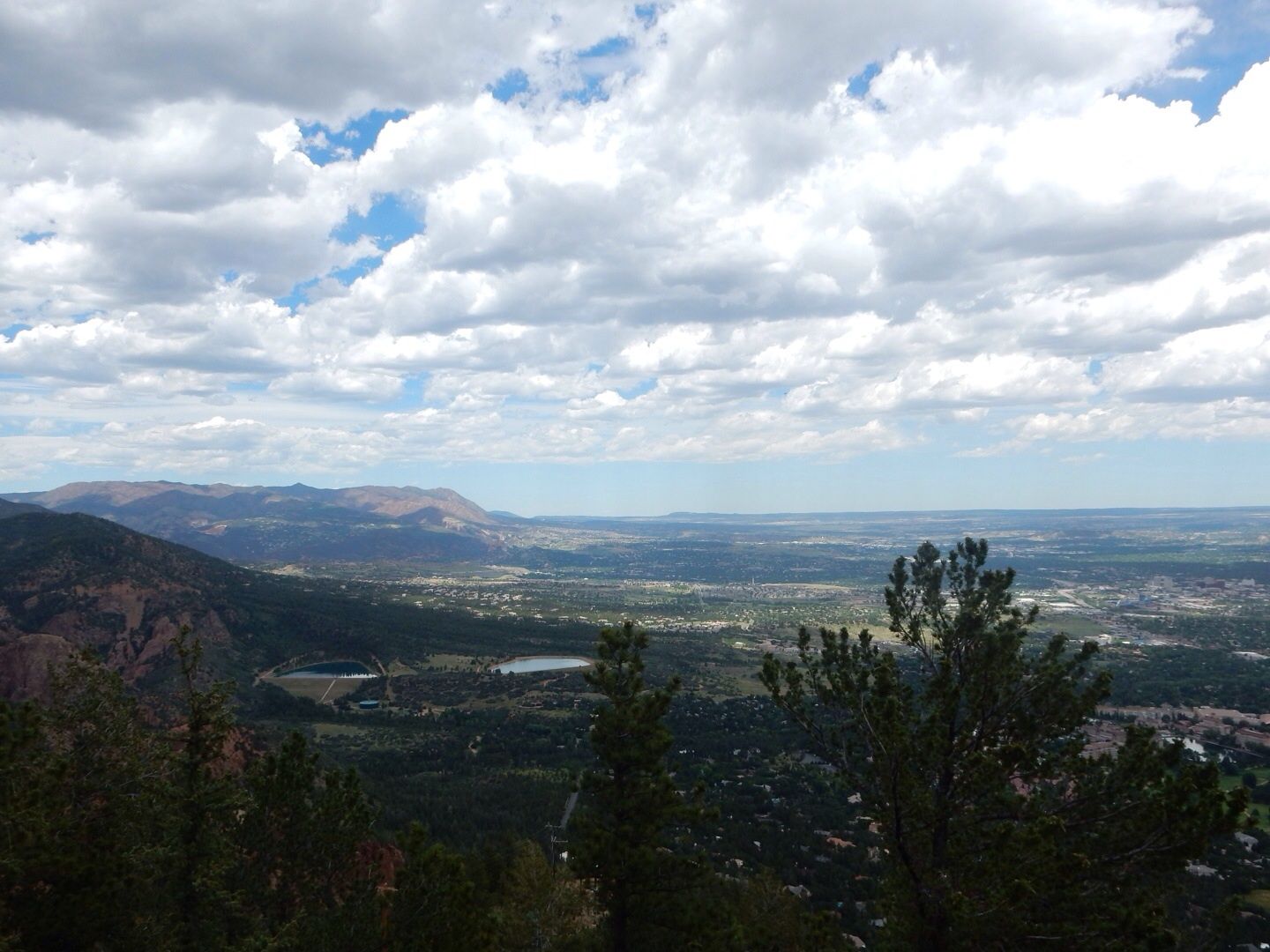 It was built from 1934-1937 using the the pink-gray granite indigenous to the area. No name had yet been determined for the tower until after Will Rogers' tragic death in an airplane crash in Point Barrow, Alaska in 1935. Penrose decided to honor Rogers and dedicated the tower to him in September of 1937. No wood or nails were used in the construction of the tower (window frames are made of metal).
On the lower level of the 100' tower is a beautiful chapel where the remains of Spencer Penrose (1939) and Julie Penrose (1959) are interred. Also, two of their close friends, Harry Leonard and Horace Devereaux are buried in the chapel as well.
Upon entering the tower, a room to the right known as the Historical Room has murals painted by New Mexico artist, Randall Davey, of historical aspects of the Pikes Peak region.
Rooms on the upper three levels contain photos of Will Rogers' life and career.
An educational center provides the history of Spencer Penrose and his wife Julie McMillan Penrose. Very successful at the mining business, they established a philanthropic organization in 1937, the El Pomar Foundation, that continues with their generous contributions and support to a wide array of community initiatives.
To access the shrine, you must pay the admission fee for the zoo. Most people see both the Cheyenne Mountain Zoo and this site on the same day. We did not realize this, but were able to visit the Will Rogers Shrine of the Sun on a subsequent day at no cost by showing our receipt to the zoo. Also, the access road to the shrine closes at 4:00 pm.
I am so glad that we got to see this impressive structure 2,000' above Colorado Springs (8,000' above sea level).